Posts Tagged 'Sam Stosur'
No blah blah, just straight into the picks…

Women
[1] Serena Williams (USA) v Carla Suarez Navarro (ESP)
Serena (Carla's had a nice clay season but isn't at SW level)
[7] Sara Errani (ITA) v [2] Maria Sharapova (RUS)
Maria (French Open redux)
[Q] Simona Halep (ROU) v Jelena Jankovic (SRB)
Jelena (Great Cinderella run by Simona ends with JJ)
[9] Samantha Stosur (AUS) v [3] Victoria Azarenka (BLR)
Vika (Sam isn't nearly confident enough to beat Vika)
Men
[1] Novak Djokovic (SRB) v [6] Tomas Berdych (CZE)
Novak (Heavier conditions hurt Tomas)
[4] David Ferrer (ESP) v [5] Rafael Nadal (ESP)
Rafa (Déjà vu for David)
Jerzy Janowicz (POL) v [2] Roger Federer (SUI)
Roger (Jerzy's had a great tournament, but Roger is too smart)
Benoit Paire (FRA) v Marcel Granollers (ESP)
Benoit (Because in the battle of nerves, Marcel will win)
My WTA Plea
I don't know why this has been allowed to go on as long as it has, but you need to figure out the broadcast rights issues with the early rounds of the women. You have a product that you've struggled to sell to the masses with few exceptions, yet you shoot yourself in the foot by not allowing it to be telecast on either ESPN or Tennis Channel. Sorry to say this, but you gain nothing and lose lots.
Rome's Internazionali BNL d'Italia began a few days ago. And though there are already a few casualties of note (Dimitrov and Ivanovic come to mind), that doesn't change the fact that the stakes are very high in this final clay court tune-up for the remaining contenders.
There's a lot riding on this title for pretty much everyone except Serena Williams.  After her victory in Madrid, Serena has nothing to prove by winning in Rome (and typically likes a break before the start of a Slam). Everyone else – including Rafa – needs some form of affirmation from this tournament before the start of the French Open.
For the women, it's all about establishing "Me too" credibility.  This particularly applies to Maria Sharapova after her lackluster showing against Serena in Madrid.  She might be the reigning French Open champion, but she's still not taken seriously for the title as long as Serena's in the draw.  If she can successfully defend her 2012 Rome title, it would give her a nice boost into Paris. But if Serena's her opponent in the final (again), Maria could be in for back to back losses in Rome and Paris.
Victoria Azarenka has only played two clay matches coming into Rome, which is hardly the best preparation for her to do well.  She struggles on clay with her movement and the diminished power in her shots.  Serena serves well enough to compensate for the power issue, Vika does not. If she wants to be taken seriously on clay, then Rome is her last hope.
Li Na, champion in Paris just two years ago, fell short against Sharapova in Stuttgart, and was bounced in her opening round in Madrid. A good showing in Rome could give her much-needed positives heading into Paris.
Surprisingly, Sara Errani hasn't EVER done well in Rome. Her best showing was a R16 loss to Serena in 2008. I guess the upshot is that she doesn't have many points to defend, and could possibly use a good Rome showing to steel herself for Paris, and a defense of her finalist finish.
There are some outliers who could make things interesting in Rome, but who lack the consistency to get to the end against the top 3 (plus Errani).  This includes Kerber and Kvitova. I'd put Sam Stosur in this group if she weren't still dealing with the aftereffects of her leg injury and diminished match play.
Carla Suarez Navarro, Ana Ivanovic, Ekaterina Makarova, Roberta Vinci, and Anastasia Pavlyuchenkova could also make some noise, but that's about it. For Rome (and probably Paris), it's Serena, Maria, Li Na or bust!
The men are a more interesting proposition. Novak Djokovic, Andy Murray, Roger Federer, and even Rafa all need a good showing in Rome to set themselves up well for Paris.
Novak needs to prove that his fitness isn't in question with respect to that bum ankle.  Andy needs to remember that he's an Olympic and Slam champion. Roger needs to prove that he can still contend for the biggest titles while fighting rust and age.
Even Rafa has something to prove in Rome. He needs to show that he can face Novak and come out with the win before the French starts, because if he waits until Paris it will mentally be too late. There's also the issue of his knees, which are reportedly sore coming into Rome, and are affecting his confidence in his movement. (We'll see how that plays out after his first couple of matches).
Notably, David Ferrer doesn't have anything to prove. He's maximized everything he can in his game to be at No. 4, and knows that his title hopes ride on the performance of others. Rome is a futile proposition for David, with potential matches against Rafa in the quarters, Novak in the semis. And unfortunately, Paris will probably look the same for him.
Outliers for the men in Rome include Del Potro, Wawrinka, and Tsonga. Beyond these guys, I don't see anyone who can make a serious run past the winner of the Rafa/Novak semifinal.
Though I'm loathe to make predictions these days given the turbulent results we've seen, here are my thoughts on how the men's and women's draws could pan out heading into the weekend:
MEN
Quarterfinals
Novak Djokovic v Tomas Berdych
Rafa Nadal v David Ferrer
Juan Martin Del Potro v Andy Murray
Jo-Wilfried Tsonga v Roger Federer
Semifinals
Novak Djokovic v Rafa Nadal
Juan Martin Del Potro v Jo-Wilfried Tsonga
Final
Rafa Nadal v Jo-Wilfried Tsonga
WOMEN
Quarterfinals
Serena Williams v Carla Suarez Navarro
Roberta Vinci v Li Na
Petra Kvitova v Victoria Azarenka
Sara Errani v Maria Sharapova
Semifinals
Serena Williams v Li Na
Victoria Azarenka v Maria Sharapova
Final
Serena Williams v Maria Sharapova
(For the record, I wouldn't be surprised if Serena retires like last year)
With Maria Sharapova's complete domination over Caroline Wozniacki in the women's final, and Rafa Nadal's spectacular comeback over a heroic Juan Martin Del Potro, the BNP Paribas Open managed to recoup a brilliant ending from a second-week letdown, and end with two very deserving champs!  The players are gone, the confetti's been cleaned up, and all that's left are my 10 final thoughts on an uneven but mostly-satisfying BNP Paribas Open.
Let's start with the champions…
Rafa Nadal beat Ernests Gulbis, Roger Federer, Tomas Berdych, and Juan Martin Del Potro to win his record-breaking 22nd Master Series title.  It's official: NO words can adequately describe the growing "Legend of Nadal" after his triumphant comeback from an injury-imposed 7-month layoff. Almost no player in history has ever come back from such an extended layoff to win 3 out of 4 events (while making the finals in the other). Yes, the first three were on his preferred clay, but yesterday's win over Del Potro for the IW title was on the surface that is toughest for his knees and his game…and he still prevailed.  He's taking a break from Miami in order to be as rested and prepared as possible for the start of the clay season.  Could we witness even more clay domination, perhaps?
Maria Sharapova battered Caroline Wozniacki on her way to a second Indian Wells title in a one-sided affair that decidedly confirmed "screaming offense wins over scrambling defense" (pun intended). This was her first hardcourt tournament win since winning the 2011 Cincinnati event. After some rough years with her post-surgery serving woes, she's settled down in and seems to avoid the crippling double faults that hurt her so badly 2-3 years ago, even getting a few free points now and then from aces. Her movement has also greatly improved, and her hitting is steadier.  As long as those three things are working, her lack of a "Plan B" doesn't really matter…except against Vika or Serena.  We'll find out for sure when the March Madness Roadshow moves to Miami.
I've always like Juan Martin Del Potro, but my respect for him has soared with his performance in the desert. After crushing Tommy Haas 6-2, 6-1, he beat both Andy Murray and Novak Djokovic in dramatic (and thrilling) 3-set matches.  The win over No. 1 Novak snapped the Serb's 22-match winning streak. His goal of winning his first Masters Series title, while taking out World Nos. 1, 3, and 5) was almost complete when he went a set and a break up on Nadal in the final (6-4, 3-1); only to have his own "Herculean" efforts surpassed by Rafa. All of this with a hurting wrist, and 3 days of 3-setters.  One wonders what could have been for DelPo if Rafa had played that one extra day, with the associated aches and pains, instead of getting a walkover from Leonardo Mayer.
Caroline Wozniacki stopped the bleeding and had one of her best results at the Premier Mandatory level in many months. There's been much talk over the years about her need to change her game, move inside of the baseline, and become more offensively-minded.  The only thing she got from all of that advice was a drop in confidence and precipitous drop in the rankings. Now, she's gone back to doing the thing that brought her to the dance (running down balls and smart defense) and looks to be in a better place. I'm a sucker for redemption, so I hope that she can sustain and grow on this success in the 2013 season.
American tennis took it on the chin with disappointing performances from the top Americans.  Sloane Stephens was one-and-done against Urszula Radwanska, and John Isner was one-and-done against Aussie veteran Lleyton Hewitt. The new top American on the men's side is Sam Querrey, who played respectably but lost in straight sets to Novak Djokovic. On the plus side for Sam (besides being the new top dog), he's also newly-engaged. Congratulations to Sam and his new bride-to-be!
I'd hate to see Sloane Stephens coming out year turn into a nightmare. But it might just end up doing so if she can't figure out the difficult task of playing in the harsh glare of the spotlight while winning the matches you're expected to win.
This isn't a knock on the WTA, women's tennis, or even the players themselves, but it would be an understatement to say that last Thursday at the BNP Paribas Open was a bad day!  The schedule took a huge hit when Sam Stosur pulled out of her quarterfinal match against Angelique Kerber (calf injury), and Victoria Azarenka's withdrawal from her quarterfinal match against Caroline Wozniacki (ankle injury). Injuries happen, and withdrawals happen.  Nobody wants to see player's jeopardize their career by playing injured.  But Larry has ponied up a huge amount of money to pay the players as well as get fans out to the desert to spend money on world-class tennis. He couldn't have been happy about the timing.
Speaking of Vika, writer Ben Rothenberg pointed out her last several tournament results in an interesting tweet.  I followed up with some research on the (janky) WTA site and came up with this surprising bit of madness: walkover (Indian Wells), title (Doha), title (Australian Open), walkover (Brisbane), title (Linz), title (Beijing), walkover (Tokyo), finalist (US Open), retirement (Montreal). I don't want to suggest anything amiss, but something feels wrong with this picture.
Admittedly, I've never been to Indian Wells. But the sense of "hard sell" whenever it's talked about by the commentators as "the best tennis tournament around" is overwhelming and annoying.  This is my yearly gripe with the TV coverage of this tournament. It almost feels like they are paid to promote it and that never sits well. There are several fan-friendly and well-run tournaments on the schedule that don't get this same treatment, so it stands out…and not in a good way. I'm not naïve to the fact that tennis has some very strange bedfellows and numerous examples of questionable conflicts of interest. But I would certainly hope that commentator promotion isn't part of the package.
Even with the absence of Roger and Rafa, the Sony Open in Miami still holds the promise of intrigue for both the men and the women. On the men's side, everyone assumes an inevitable clash between Andy and Novak for the title.  Does that narrative change since both were knocked out by Del Potro in successive rounds at Indian Wells?  Or will Jo-Wilfried Tsonga and Tomas Berdych finally make their stand?  The questions are just as numerous on the women's side with the inclusion of Serena Williams to the mix. Though Miami is supposedly her "home tournament", Serena hasn't won there since 2008. Will Maria complete the rare Indian Wells/Miami double?  Will Vika's ankle injury come into play with another walkover?
Lots of questions, and hopefully I'll have some answers for you as I cover the tournament for Tennis Panorama along with Amy Fetherolf and Enrico Maria Riva.
Again, please accept my apologies on these late and rushed picks.  But I gotta get them out before the tournament's over!

In the absence of the WTA's best player, this title could go to a few different women.  Vika Azarenka, last year's champion, is the top choice, followed closely by Maria Sharapova.  But there are a few others who could sneak in for a shot too.  So without further ado, here are my picks for the women's draw.  Some of them are a little on the "wish list" side of reality, but that's okay.  It keeps things interesting for both me and you.
Top Quarter – Vika
Vika looks like a pretty sure bet for the top part of this quarter, but I'm going to stick my neck out and go with Laura Robson as a surprise quarterfinalist on the bottom. Nadia Petrova and Julia Goerges are contenders, but let's give the British girl a chance for her breakthrough moment.  Caroline Wozniacki is an outside shot at best, given her up and down play as of late: including a loss to a player outside of the top 100. It would be great to see Sloane Stephens make a run for revenge against the top seed, but her path is complicated with Urszula Radwanska and Bethanie Mattek-Sands between her and that quarterfinal spot.
Second Quarter – Angie
Interesting match-ups in this quarter include Ana Ivanovic v Mona Barthel, and young American Madison Keys v Sam Stosur.  But in the end, I'm going with Angelique Kerber against Paris winner Barthel in the quarters, after Angie gets by Heather Watson and Yanina Wickmayer.  BTW, I'm also going with Keys over Stosur given Madison's home court advantage, and Sam's fairly dismal record in the desert. (NOTE: I tend to usually never root against players, but am hoping for quick exits with respect to Bojana Jovanovski and Michelle Larcher de Brito.  It's bad enough that we have to listen to Vika and Maria without adding these two into the "ridiculous noise" mix!)
Third Quarter – Aga
I would love to give Petra Kvitova the nod in this quarter, but I can't.  Whenever she comes to North America we end up hearing about her allergies over her results.  This time won't be any different.  I'm looking at Dominika Cibulkova to come through the top part of this quarter with solid semifinal favorite Aga Radwanska to easily slice through the bottom roster of contenders, including Sorana Cirstea and Maria Kirilenko.
Bottom Quarter – Which Russian?
Maria Sharapova or a resurgent Svetlana Kuznetsova?  That is the question posed by the bottom quarter. Maria has a fairly straightforward path to the quarterfinals, even with a potential round of 16 match against Roberta Vinci.  The same holds true for Svetlana, even with an upcoming match against drama queen extraordinaire, Jelena Jankovic, and mighty mite Sara Errani.  If Svetlana keeps her head together and plays the type of tennis that she's been playing since her return from knee surgery, she's got as good a chance as anyone.
Quarterfinals:
Victoria Azarenka v Laura Robson
Angelique Kerber v Mona Barthel
Dominika Cibulkova v Aga Radwanska
Svetlana Kuznetsova v Maria Sharapova
Semifinals:
Victoria Azarenka v Angelique Kerber
Aga Radwanska v Svetlana Kuznetsova
Final:
Victoria Azarenka v Aga Radwanska
Winner – Victoria Azarenka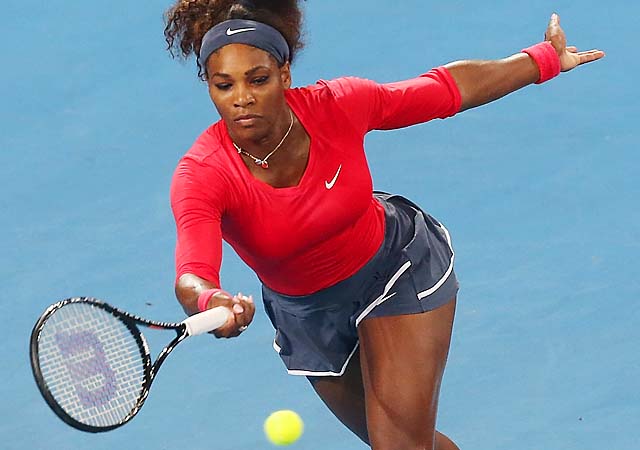 Though my feelings on the eventual finalists are evident from my title, let there be no doubt that there's a ton of tennis to be played before we get to the final! Unlike the predictability of the men's draw in Australia, the women's title has often been up for grabs; even in years when Serena Williams was the prohibitive favorite.
This year is no exception. Serena is again the prohibitive favorite as she looks to continue her torrid pace from the 2012 season in pursuit of her sixth AO title. But the World No. 1 and defending champion, Victoria Azarenka, might have something to say about that. So too might Maria Sharapova, last year's French Open champion and the newest addition to the career Grand Slam club. As if those three weren't enough for sufficient drama, Agnieszka Radwanska has won two titles in 2013 (Auckland and Sydney) without dropping a set. What a phenomenal collection of favorites!
There are also enough dark horses and spoilers sprinkled throughout the draw to make this one of the most interesting Opens in years. So without further ado, let's dive in and take a deeper look at the Australian Open women's draw.
Top Quarter: Vika Takes the Top Quarter
Top Seeds: Victoria Azarenka (BLR) [1] and Sara Errani (ITA) [7]
Victoria Azarenka, the defending champion and recipient of a bad pedicure in Thailand, should have no issues getting through the top section of this quarter. Her only likely challenger looks to be Urszula Radwanska, Aga's younger sister. An upset isn't likely, but you never know. Stranger things have happened Down Under. However, once Vika gets through this match, she should be okay to get through to the semifinals.
The bottom section, on the other hand, appears to be a much trickier proposition for Sara Errani. By my count, there are at least three women who could take her presumed spot in the quarterfinals. Luckily for her, one of them will be gone after the first round between Caroline Wozniacki [10] and Sabine Lisicki. Sabine might have struggled somewhat in 2012, but one can never underestimate a former Slam semifinalist's abilities. The same holds true for Caroline. And let's not forget Svetlana Kuznetsova. After six months away from the tour due to a knee injury, she played some amazing tennis in Sydney. Was it too much tennis for her to make an impact in Melbourne? Probably, but the upset potential is still high.
First round matches of interest: Wozniacki/Lisicki, Hampton/Radwanska
Second Quarter: Serena's Tournament To Lose
Top Seeds: Serena Williams (USA) [3] and Petra Kvitova (CZE) [8]
There's nobody, I repeat NO ONE, in Serena's section of this quarter who can or will stop her inevitable march to the quarterfinals. I say that even after last year's "Makarova incident" where Serena got knocked out early by the lesser-ranked Ekaterina Makarova. At the time, Serena was recovering from a slight ankle injury and off-season rust. This year, she's riding high from the WTA year-end title, a focused off-season, and her first title of the year in Brisbane (which she won without dropping a set). Last year showed that almost anything can happen under the right circumstances. But barring the extraordinary, this tournament is Serena's for the taking!
As with Vika's quarter, the bottom section of this quarter promises more interest and drama than the top. Petra Kvitova could have her hands full with Francesca Schiavone in the first round. Neither is playing with much confidence these days, but both are Grand Slam champions, which should count for something. Sloane Stephens could find herself in a battle with Simona Halep after her unfocused finish in Hobart. And for those in the crowd who like things "Retro", the first round match between Nadia Petrova and Kimiko Date-Krumm should suffice nicely.
Note: Nice to see Melanie Oudin in the main draw, but tough match against the surging Brit Laura Robson.
First round matches of interest: Petrova/Date-Krumm, Stephens/Halep,
Oudin/Robson, Schiavone/Kvitova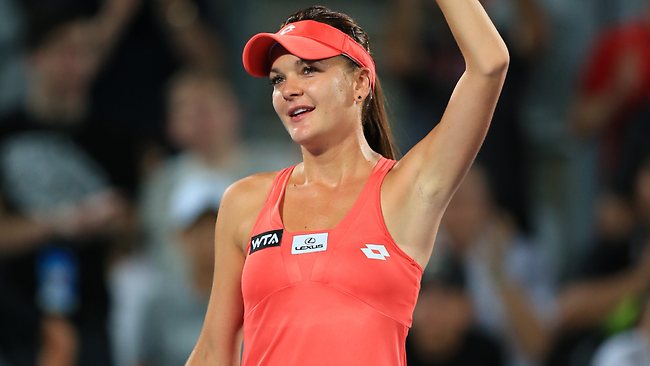 Third Quarter: Aga's Moment to Shine
Top Seeds: Li Na (CHN) [6] and Agnieszka Radwanska (POL) [4]
There's no one in this quarter with the game to derail a repeat of the Sydney International semifinal between Li Na and Aga Radwanska. No, I take that back. There are 3 women, specifically Samantha Stosur, Ana Ivanovic, and Daniela Hantuchova, who have the game but currently lack the ability to bring it when needed. If Stosur could pull it together and play well at home, she'd at least have a shot at derailing Aga's title chances. But unlike Lleyton Hewitt, she can't overcome the nerves of being the hometown favorite.
As for Ana and Daniela, I don't think that either could stop Aga even if they were on top of their games. Aga is playing excellent counterpunch tennis, with just the right amount of aggression. She is the female counterpart to Andy Murray pre-2012, which is not a knock by any means. At a time when many players in the women's game only have one strategy i.e. hit winners, she puts them under immense pressure to execute to perfection or pay the penalty. Dominika Cibulkova found that out the hard way, suffering a 6-0, 6-0 loss in the Sydney International final. Her game is tidy, her unforced error count is low, and she's feeling very confident about her ability to face down anyone on the court. I'm feeling confident that she won't let me down as my pick for finalist opposite Serena.
First round match of interest: Vandeweghe/Cirstea
Bottom Quarter: Kerber Emerges From the Bottom Quarter
Top Seeds: Angelique Kerber (GER) [5] and Maria Sharapova (RUS) [2]
Maria will play her first matches of 2013 at the Australian Open because of a collarbone injury she suffered while training. I know that she's experienced enough to know what she needs for tournament preparation, but there's no substitute for match play. And in a dangerous quarter like this one, she's no clear favorite to move through with so little prep. A resurgent Venus Williams looms as a potential third round opponent, and "giant killer" Cibulkova looms in the fourth round.
The top section offers its' own dangers. Angelique Kerber and Marion Bartoli are both looking for quarterfinal berths, and have the game to back it up. By my count, five women have a real shot to make it out of this quarter. Will it be Maria? I don't think so. Venus? Though I'd "never say never", I think the heat and physical stress will take their toll on her tennis as the tournament progresses. Marion also needs matches to get her game going. Since she's only played 3 on the year, I can't go with her. I think that the winner of this quarter will come from an Angelique/Dominika quarterfinal. Though Angie lost to Dominika in Sydney, I'm going with her for Grand Slam experience.
As the POTUS would say, let me be clear: Angelique through to the semifinals.
First round matches of interest: Dellacqua/Keys, Medina Garriges/Bartoli, V. Williams/Voskoboeva
My Tournament Picks (admittedly, some are iffy)
Quarterfinals
Victoria Azarenka (BLR) [1] def. Caroline Wozniacki (DEN) [10]
Serena Williams (USA) [3] def. Sloane Stephens (USA) [29]
Agnieszka Radwanska (POL) [4] def. Li Na (CHN) [6]
Angelique Kerber (GER) [5] def. Dominika Cibulkova (SVK) [15]
Semifinals
Serena Williams (USA) [3] def. Victoria Azarenka (BLR) [1]
Agnieszka Radwanska (POL) [4] def. Angelique Kerber (GER) [5]
Final
Serena Williams (USA) [3] def. Agnieszka Radwanska (POL) [4]