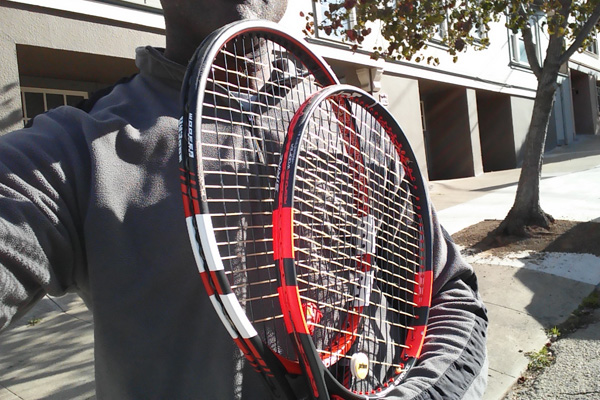 Two years ago, I participated in a video racquet review for the Babolat AeroPro Drive. We hit first with the (then) current version of the racquet, and then with the newer version that was to come out in 2013. I hated the first one, and hated the second one only slightly less. For me, it was a total Babolat fail.
Since then, I've had a strong bias against Babolat racquets as "stiff, unwieldy beasts offering minimal control". Sure it's worked well for Rafa, but I'm not Rafa. With that, I turned my racquet-review attention to racquets that could help more than just lefty spinners from Mallorca!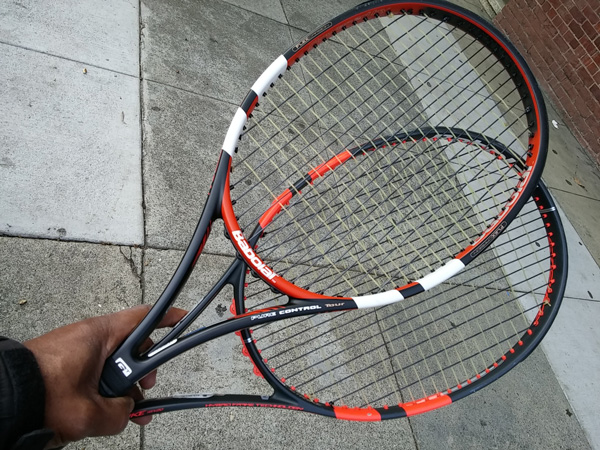 Fast forward to the final months of 2014 and the realization that, personal feelings notwithstanding, Babolat racquets have become increasingly popular with both adult and junior players, and I need to find out why. So for my final racquet review of the year, I wanted to see if there were newer models that could help me overcome my anti-Babolat bias.
As it turns out, there were two! I asked my friend Marla at City Racquet Shop which Babolat she'd recommend, and she gave me two: the Pure Strike 18×20 and the Pure Control Tour. Much to my surprise, I liked both, and LOVED the Pure Strike.
Though the AeroPro line might still be "unwieldy", Babolat has clearly managed to come out with sticks that are good for everyone else not named "Nadal".

Check out my reviews for both of these great racquets by clicking the links below:
Racquet Review: Many Reasons to Love the Babolat Pure Strike
Racquet Review: Babolat Pure Control Tour Offers Good Spin/Pace, But It's a Beast!
(A big thanks to City Racquet Shop for the demos. If you're in the Bay Area and interested in demoing and/or buying either of these racquets, stop by and Marla will hook you up!)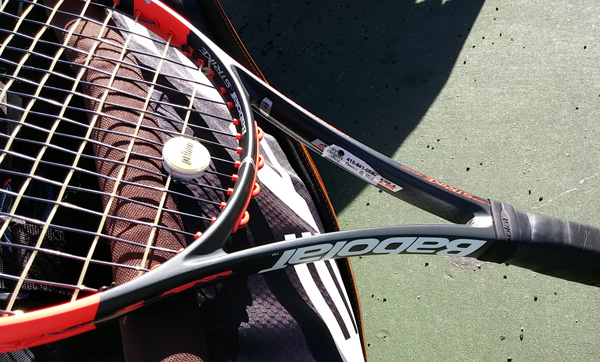 [Spoiler] The Babolat Pure Strike is my personal favorite of all the racquets I demoed in 2014. Why such high praise? I'll start with groundstrokes, then work my way through all of the reasons why this racquet has successfully knocked the Wilson Pro Staff 100LS from atop the list for my next racquet.
Groundstrokes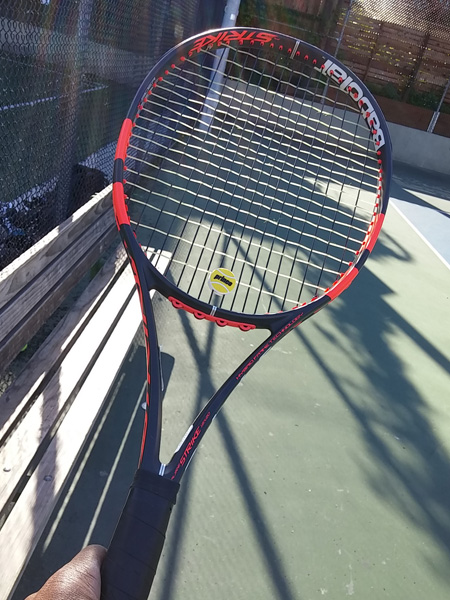 Simply put, this racquet felt "right" from the very first groundstroke that I hit during warmups. In spite of its' relatively light weight, shots felt solid, with minimal excess vibration. And pretty much every shot felt good (or at least decent) no matter where it hit the racquet face.
A buddy of mine made a similar observation after hitting with it, telling me that his shots sounded the same regardless of whether or not he hit the sweet spot. I'm not saying that you can't still shank shots with the Pure Strike. But what it does show, in both instances, is a positive perception on how shots feel coming off the racquet. And in my book, "positive perception" will almost always translate to shot confidence.
With respect to my ground game, forehand shots felt the best. The racquet easily took to the natural spin on my forehand stroke, and gave me decent depth (and pace) with an easy, full swing. The ball sometimes flew long to the backstop, but settled back down as long as I stopped forcing the shot.
Two-handed backhands felt decent, and any deficits on that wing were more a function of my technique than the racquet. Because of the racquet's light weight, it was a little difficult to keep the ball low AND get good depth on one-handed slice shots without a deliberate, full swing. Anything less sent the ball to the bottom of the net or flying high for an easy doubles put-away. (Note to self: no more "lazy" slice shots.)
Serve
The Pure Strike worked well with my serve.  I had great control on flat and spin serves, as well as easy pace. And the "solid feel" described above on ground strokes was also present on serve. Well-struck serves felt great, and off-center serves felt okay. This is a far-cry from the awful feeling, pain-inducing vibration included, that so often accompanies a shanked serve. I definitely give it high marks on this front.
Volleys
I don't have the strongest volley game. And, regrettably, this racquet didn't do much to help with that. With the racquet's reduced weight, it was hard to get depth or stick my volleys. My volleys weren't awful; they just required more work on my part to achieve good depth, pace, and placement.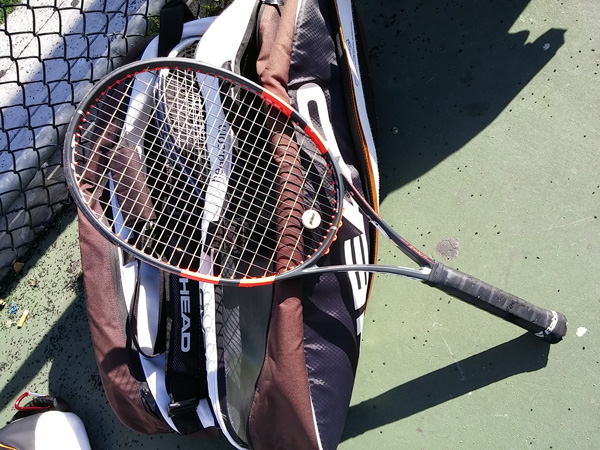 Overall
I was actually surprised at how much I liked this racquet. At a time when I'm feeling good about my game but also struggling with some pain in my surgically-repaired shoulder, this racquet seemed to provide everything I need!
It provides great support for my ground game, works well with my killer serve, doesn't hurt my volleys or backhand, and is a weight that doesn't bother my shoulder. It works just as well with topspin as it does with flatter shots. And though I initially wasn't a big fan of the red color, but have gradually grown to like it.
I realize that I said many of these same things about the Wilson Pro Staff 100LS, but there is a big difference between the two. The Pure Strike's 18×20 string pattern provides for much better ball control than the Pro Staff's 16×15 pattern. And for club players like myself, more (and better) control is ALWAYS a good thing.
This is, hands down, the best racquet I've demoed all year. If you're looking for a new stick, give this one a serious look.
Note: If you're interested in this racquet, take it out for a hit and judge for yourself. Racquet specs and marketing-speak are no substitute for knowing the strengths/weaknesses of your game, and how a racquet might help or hurt your goals.
(Racquet provided by City Racquet Shop of San Francisco.)
Racquet Specifications
Head Size: 98 sq. in. / 632.26 sq. cm.
Length: 27in / 68.58cm
Strung Weight: 11.4oz / 323.18g
Balance: 12.9in / 32.77cm / 5 pts HL
Swingweight: 324
Stiffness: 66
Composition: Graphite
Power Level: Low
Stroke Style: Full
Swing Speed: Fast
String Pattern: 18 Mains / 20 Crosses
String Tension: 52-62 pounds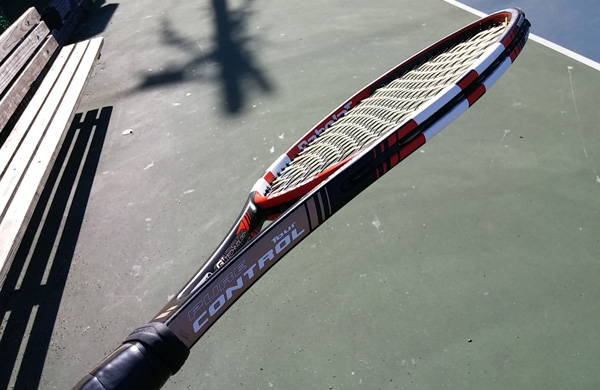 I demoed the Babolat Pure Control Tour after an earlier hit with the Pure Strike. Though my impressions of it weren't quite as positive as the Pure Strike, I still mostly liked it. It's a good racquet, but is also a bit of a beast. Let me explain why while diving into my impressions of this racquet, and how it worked with my game AND my body.
Groundstrokes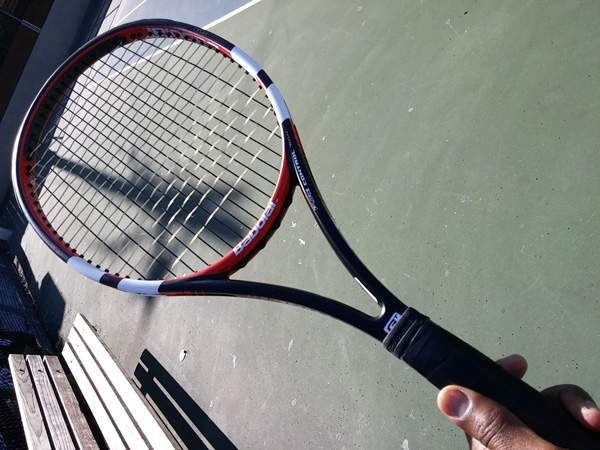 Though its' strung weight is only 1/10th of an ounce greater than my current stick, the Pure Control Tour feels heavy. But with this heft comes greater pop on your shots. However, that pace is unfortunately offset by its' 16×20 open string pattern.
Still, my forehand felt solid, with good pace and decent spin/control. But as with racquets like the HEAD Extreme, it's easy to send the ball flying – though definitely not to the same degree. Admittedly, hitting with the low-power Pure Strike beforehand might have something to do with this. The same swing used successfully with the Pure Strike is much less successful with this racquet. Timing matters.
My two-handed backhand felt good, though it was too easy to over-hit. Conversely, my single-handed slice felt GREAT! I was able to get plenty of depth and bite on that shot much more easily than with the Pure Strike. This was a huge plus during the set of doubles I played during my demo period.
Serve
Well-struck serves using the Pure Control Tour were virtually unreturnable because of the spin and extra pop that this racquet provides. Unfortunately, I struggled with control and made a few more double faults than I would prefer.
The larger issue with this racquet, however, was the negative impact of the weight and vibration. My shoulder began to hurt after a few service games, and off-center serves caused vibration that further irritated my shoulder and elbow.
Volleys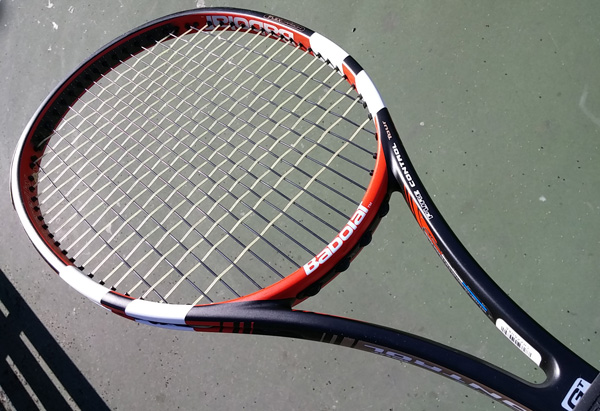 Another plus: volleys felt great. The Pure Control Tour gave me a ton of control and depth without popping the ball up, and leaving me vulnerable to my opponent's passing shot attack. In this instance, the racquet's heft was extremely helpful.
Overall
Don't get me wrong. I liked the Pure Control Tour, and would probably have liked it even more if my shoulder hadn't been bothering me as much. Apart from the shoulder pain, however, there are other considerations that make this racquet problematic for me and my game.
The Pure Control Tour is a great racquet to help take your game to the next level. At the age of 51 with two surgeries under my belt, I'm not looking to get to the next level. Though I'm always working to improve my skills, I need a racquet that supports the maintenance of my current level while also preventing injury. This is not that racquet.
If I were younger OR hadn't had shoulder surgery, I would have given this racquet more time to impress. As it was, I had to cut short my demo due to increasing shoulder pain.
The Pure Control Tour is a great racquet if you are looking to take your game to the next level. If not, then you may want to consider some other options.
Note: If you're interested in this racquet, take it out for a hit and judge for yourself. Racquet specs and marketing-speak are no substitute for knowing the strengths/weaknesses of your game, and how a racquet might help or hurt your goals.
(Racquet provided by City Racquet Shop of San Francisco.)
Racquet Specifications
Head Size: 98 sq. in. / 632.26 sq. cm.
Length: 27in / 68.58cm
Strung Weight: 11.8oz / 334.52g
Balance: 12.63in / 32.08cm / 7 pts HL
Swingweight: 317
Stiffness: 63
Composition: Graphite & Flex Carbon
Power Level: Low
Stroke Style: Full
Swing Speed: Fast
String Pattern: 16 Mains / 20 Crosses
String Tension: 52-62 pounds
Whether you're a cat lover, cat enthusiast, mildly amused at felines, or just looking for a place to chill and see what the hubbub is about, the Oakland-based Cat Town Café & Adoption Center is the place for you!
Billed on its' website as a collaboration between Cat Town founder/president Ann Dunn and co-founder Adam Myatt, the "Cat Man of West Oakland", the Cat Town Café & Adoption Center provides a communal space for at-risk cats AND there hopefully soon-to-be adoptive humans to meet and play in a relaxed, cat-centric environment.
It's an ingenious method for cat adoptions that utilizes the idea of "community" on a couple of different levels, and to great effect.
Typically, rescue animals in shelters are housed individually in cages or small rooms. While this works for a one-on-one interaction with an animal, it may not be the best way to see how the animal fares in a setting more akin to a family's home.
By contrast, the Cat Town "Cat Zone", with its' colorful cat buildings and graffiti-esque murals, provides a wide open space where potential guardians can interact with the cats while also seeing how they interact with others.
There's also something to be said for the interactions between the numerous Cat Zone visitors. Though many of them are already (or soon-to-be) cat lovers, some folks come just to hang out on their lunch break. I met quite a few during my visit, and swapped several amusing stories about our respective feline friends.
Given that type of environs, it's easy to see how someone coming in to adopt a cat, perhaps with a few questions and a bit of trepidation, might be more inclined to do so after having a similarly positive interaction with the helpful volunteers, staff, and other Cat Zone visitors.
They become invested: not just with the cats, but with the greater Cat Town community.
This isn't just a happy coincidence. It's part of the Cat Town "hook". Given the grim statistics for sheltered cats, even in a city such as Oakland with lower euthanasia rates than most, Ann's goal is simple. "We want to place as many cats into good homes as possible."
To that end, they screen incoming cats in order to find the best Cat Zone candidates.  After all, it doesn't help anyone if a shy (or aggressive) cat is put into an environment that doesn't show them in their best light. Volunteers are also screened, but Ann is clear on not making good people jump through multiple hoops to help the Cat Town cause.
I could go on and on about all of the various aspects of Cat Town, but it's probably best if you can go check it out for yourselves. You can book Cat Zone reservations online with ease, or take your chance on finding an open walk-in slot (off hours are best). There's a requested donation of $10 per hour block of time and, trust me, it's well worth it. Especially if you come away finding "the one".
If you're not able to get into the Cat Zone while you're there (or just want to do a quick drive by), you can grab a bite to eat from the awesome selection at the café, and nosh while watching the cats through a viewing window.
And don't forget to grab a t-shirt on the way out…

(Note: In the interest of full disclosure, I've known Ann since moving to San Francisco 24 years ago. She's always been a passionate advocate for animal rights, and has worked tirelessly to make Cat Town a reality. I love it when I can use my blog to help feature my great friends, and their great work!)
Cat Town Café & Adoption Center
2869 Broadway
Oakland, CA 94611
(Located in Oakland, on Broadway just south of Auto Row)
Email: cafe@cattownoakland.org
Facebook: https://www.facebook.com/CatTownCafeOAK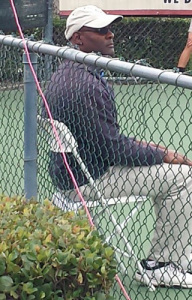 In the past month, I've spent 17 days on court in some capacity as an official. This includes stints in Napa, Sacramento, and Tiburon; and ITA work in San Francisco and Berkeley. It's been both exhilarating and exhausting… and I wouldn't have it any other way.
As I continue to establish my officiating credentials, it's clearer than ever that my previous work in media, in particular the coverage of pro events, needs to be put on the back burner for an indefinite period of time.
It's one thing to write about my overall love for tournament officiating, particularly juniors, and sharing tips/observations that might help all players – young and old –improve their games. That's an acceptable and uplifting way in which I can use my officiating work to the greater, and further spread my love for the game with others.
It's quite another to write about college matches (or players) after having chaired those matches, or commenting on any particular win (or loss) of a pro match or player for which I worked on court as a line umpire. The level of contact is too intimate, and is completely inappropriate for any amount of writing reflection. That also includes any mentions or discussions on social media.
It'd be easy to assume that the information garnered from this vantage point is no different from that of a courtside journalist. However, that would be a wildly errant assumption. Someone sitting courtside might very well be privy to the same level of intimacy, but, barring bouts of courtside misbehavior, their actions will likely have no bearing on the match outcome.
An official's action can and will, by the nature of their on-court role, affect the match outcome. That is a crucial difference between the two, and rightly precludes any post-match discussions by match personnel in a public forum. It's inappropriate, to say the least, and potentially unethical.
At stake is the basic tenet of "integrity": for the match, as well as for myself. Trust me, I'm not going to do anything to hurt either.
On a practical level, that means that I will continue to refrain from writing about any tournament that I'm work, any match that I'm work, or any player with whom I've ever been on court. This will hold true for all ITA, ITF, USTA, professional, and even some local events.
Going forward, you can probably expect more (and larger) chunks of radio silence from me, because I'm hoping to do even more pro and high-level events in 2015. You will, however, continue to see articles on tennis tips/techniques, equipment reviews, and larger discussions of the Slams, player development ideas, and other tennis-related stories. But that's all for now.
I'd like to extend a huge Thank You to all who've supported me along this journey, and all those who will continue to support me even if with the current restraints. The nature of my site posts may change, but not my love for all aspects of the game. I hope you stick around to see how that will continue in the new season.
Ladies and gentlemen, meet my next racquet!
These are strong words coming from a guy who has NEVER liked a Wilson racquet of any generation, but there you have it. From the first hit to the last (before I put it back in the shipping box), I loved how this racquet complemented virtually every aspect of my game.
So let's dive right in for some detailed thoughts on this rare Wilson unicorn.
Groundstrokes
The 100LS is a fairly light racquet. It's 10.6 oz. strung weight is a full ounce lighter than the 11.6 oz. weight of my current HEAD Speed MP 315 (18×20). Generally speaking, I'm not a fan of light racquets because I'm a big, strong guy with a tendency to swing too fast. But rather than feeling like a toy racquet, the Pro Staff 100LS felt solid in my hand during the swing as well as on impact with the ball.
The lighter weight also gave me added maneuverability on the court, allowing me to get to balls that might normally be too difficult to reach, and actually being able to do something once I got there.
With its' 16×15 string pattern, the 100LS has been promoted as a racquet that will give you more spin with better control. I can't vouch for the spin part since my stroke production already promotes spin. What I can vouch for, however, is the incredible depth and power of shot I was able to create with this racquet.
The benefit to my forehand was clear on the first strike. The sound of the ball coming off the strings was like a Howitzer. My already pace-filled shot became an even more powerful weapon with this stick. At one point while receiving during doubles, I hit a passing shot that virtually left a smoke trail as it whizzed by the opposing net man. I can certainly hit shots of that caliber with my current stick, but not with the same ease or frequency.
The benefit to my two-handed backhand wasn't nearly as dramatic, but that was okay as long as there was no performance deficit. Initially, it was tough to get "touch" and/or depth on my backhand slice shots. That was remedied by a taking a more deliberate stroke with a slightly bigger backswing. Also, a reduction in string tension would probably provide better overall feel.
(A backhand side note: Though I normally hit a two-hander, I even managed to "rip" a couple of single-handed backhands with this racquet. The 100LS definitely gets bonus credit for that achievement!)
Serves
The Howitzer effect mentioned earlier with regard to my forehand was also present on my serve. Well-struck serves were unreturnable. Decently struck serves were still winners. Overplayed serves hit the back fence, so it was necessary to make sure that I maintained the proper grip (with a relaxed arm) in order to minimize double faults.
Volleys
The two words I would use to describe my experience at the net with the 100LS are forgiving and solid. The aforementioned maneuverability of this stick allows for those with less than stellar volley technique, like myself, to make solid volleys from less than ideal positions. And generally, the ball stayed down nicely. I even made more than a few stellar stick volleys, though the racquet 'had me' after the first one.
Overall
Though my HEAD racquets have served me well for the better part of 5 years, there's simply no comparison. Forehand, backhand, serve, and volley: there was absolutely no part of my game that didn't benefit from the Pro Staff 100LS! In fact, I would buy a couple right now if I had an extra couple of hundred bucks lying around.
Stiffness is the only potential problem I can see for this racquet. Too many mishits could be a recipe for tennis elbow in a player with a tendency towards either mishits or tennis elbow. I had a few mishits on serve, and felt the impact immediately in my arm; though not enough to make me stop hitting. As mentioned earlier, however, lower string tension (or a different kind of string) could help with this. The demo I used was likely strung midrange at 59 pounds, 7 higher than my current stick. Lowering the tension to 54 would give it a softer feel, and probably help cushion the impact of mishits.
This is a GREAT racquet, and will likely be my next racquet purchase. However, if anyone out there is a Wilson rep (or knows a Wilson rep) with 100LS racquets to spare, contact me and I'll send you my shipping address.

Note: If you're interested in this (or any) racquet, take it out for a hit and judge for yourself. Racquet specs and marketing-speak are no substitute for knowing the strengths/weaknesses of your game, and how a racquet might help or hurt your goals.
Racquet Specifications
Head Size: 100 sq. in. / 645.16 sq. cm.
Length: 27.25in / 68.58cm
Strung Weight: 10.6oz / 300.5g
Balance: 13in / 33.02cm / 4 pts HL
Stiffness: 63
Composition: Graphite/Kevlar/BLX
Power Level: Low-Medium
Stroke Style: Medium-Full
Swing Speed: Fast
String Pattern: 16 Mains / 15 Crosses
String Tension: 54-64 pounds