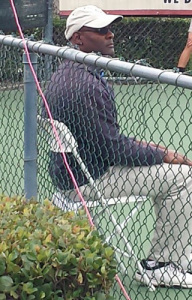 In the past month, I've spent 17 days on court in some capacity as an official. This includes stints in Napa, Sacramento, and Tiburon; and ITA work in San Francisco and Berkeley. It's been both exhilarating and exhausting… and I wouldn't have it any other way.
As I continue to establish my officiating credentials, it's clearer than ever that my previous work in media, in particular the coverage of pro events, needs to be put on the back burner for an indefinite period of time.
It's one thing to write about my overall love for tournament officiating, particularly juniors, and sharing tips/observations that might help all players – young and old –improve their games. That's an acceptable and uplifting way in which I can use my officiating work to the greater, and further spread my love for the game with others.
It's quite another to write about college matches (or players) after having chaired those matches, or commenting on any particular win (or loss) of a pro match or player for which I worked on court as a line umpire. The level of contact is too intimate, and is completely inappropriate for any amount of writing reflection. That also includes any mentions or discussions on social media.
It'd be easy to assume that the information garnered from this vantage point is no different from that of a courtside journalist. However, that would be a wildly errant assumption. Someone sitting courtside might very well be privy to the same level of intimacy, but, barring bouts of courtside misbehavior, their actions will likely have no bearing on the match outcome.
An official's action can and will, by the nature of their on-court role, affect the match outcome. That is a crucial difference between the two, and rightly precludes any post-match discussions by match personnel in a public forum. It's inappropriate, to say the least, and potentially unethical.
At stake is the basic tenet of "integrity": for the match, as well as for myself. Trust me, I'm not going to do anything to hurt either.
On a practical level, that means that I will continue to refrain from writing about any tournament that I'm work, any match that I'm work, or any player with whom I've ever been on court. This will hold true for all ITA, ITF, USTA, professional, and even some local events.
Going forward, you can probably expect more (and larger) chunks of radio silence from me, because I'm hoping to do even more pro and high-level events in 2015. You will, however, continue to see articles on tennis tips/techniques, equipment reviews, and larger discussions of the Slams, player development ideas, and other tennis-related stories. But that's all for now.
I'd like to extend a huge Thank You to all who've supported me along this journey, and all those who will continue to support me even if with the current restraints. The nature of my site posts may change, but not my love for all aspects of the game. I hope you stick around to see how that will continue in the new season.
Ladies and gentlemen, meet my next racquet!
These are strong words coming from a guy who has NEVER liked a Wilson racquet of any generation, but there you have it. From the first hit to the last (before I put it back in the shipping box), I loved how this racquet complemented virtually every aspect of my game.
So let's dive right in for some detailed thoughts on this rare Wilson unicorn.
Groundstrokes
The 100LS is a fairly light racquet. It's 10.6 oz. strung weight is a full ounce lighter than the 11.6 oz. weight of my current HEAD Speed MP 315 (18×20). Generally speaking, I'm not a fan of light racquets because I'm a big, strong guy with a tendency to swing too fast. But rather than feeling like a toy racquet, the Pro Staff 100LS felt solid in my hand during the swing as well as on impact with the ball.
The lighter weight also gave me added maneuverability on the court, allowing me to get to balls that might normally be too difficult to reach, and actually being able to do something once I got there.
With its' 16×15 string pattern, the 100LS has been promoted as a racquet that will give you more spin with better control. I can't vouch for the spin part since my stroke production already promotes spin. What I can vouch for, however, is the incredible depth and power of shot I was able to create with this racquet.
The benefit to my forehand was clear on the first strike. The sound of the ball coming off the strings was like a Howitzer. My already pace-filled shot became an even more powerful weapon with this stick. At one point while receiving during doubles, I hit a passing shot that virtually left a smoke trail as it whizzed by the opposing net man. I can certainly hit shots of that caliber with my current stick, but not with the same ease or frequency.
The benefit to my two-handed backhand wasn't nearly as dramatic, but that was okay as long as there was no performance deficit. Initially, it was tough to get "touch" and/or depth on my backhand slice shots. That was remedied by a taking a more deliberate stroke with a slightly bigger backswing. Also, a reduction in string tension would probably provide better overall feel.
(A backhand side note: Though I normally hit a two-hander, I even managed to "rip" a couple of single-handed backhands with this racquet. The 100LS definitely gets bonus credit for that achievement!)
Serves
The Howitzer effect mentioned earlier with regard to my forehand was also present on my serve. Well-struck serves were unreturnable. Decently struck serves were still winners. Overplayed serves hit the back fence, so it was necessary to make sure that I maintained the proper grip (with a relaxed arm) in order to minimize double faults.
Volleys
The two words I would use to describe my experience at the net with the 100LS are forgiving and solid. The aforementioned maneuverability of this stick allows for those with less than stellar volley technique, like myself, to make solid volleys from less than ideal positions. And generally, the ball stayed down nicely. I even made more than a few stellar stick volleys, though the racquet 'had me' after the first one.
Overall
Though my HEAD racquets have served me well for the better part of 5 years, there's simply no comparison. Forehand, backhand, serve, and volley: there was absolutely no part of my game that didn't benefit from the Pro Staff 100LS! In fact, I would buy a couple right now if I had an extra couple of hundred bucks lying around.
Stiffness is the only potential problem I can see for this racquet. Too many mishits could be a recipe for tennis elbow in a player with a tendency towards either mishits or tennis elbow. I had a few mishits on serve, and felt the impact immediately in my arm; though not enough to make me stop hitting. As mentioned earlier, however, lower string tension (or a different kind of string) could help with this. The demo I used was likely strung midrange at 59 pounds, 7 higher than my current stick. Lowering the tension to 54 would give it a softer feel, and probably help cushion the impact of mishits.
This is a GREAT racquet, and will likely be my next racquet purchase. However, if anyone out there is a Wilson rep (or knows a Wilson rep) with 100LS racquets to spare, contact me and I'll send you my shipping address.

Note: If you're interested in this (or any) racquet, take it out for a hit and judge for yourself. Racquet specs and marketing-speak are no substitute for knowing the strengths/weaknesses of your game, and how a racquet might help or hurt your goals.
Racquet Specifications
Head Size: 100 sq. in. / 645.16 sq. cm.
Length: 27.25in / 68.58cm
Strung Weight: 10.6oz / 300.5g
Balance: 13in / 33.02cm / 4 pts HL
Stiffness: 63
Composition: Graphite/Kevlar/BLX
Power Level: Low-Medium
Stroke Style: Medium-Full
Swing Speed: Fast
String Pattern: 16 Mains / 15 Crosses
String Tension: 54-64 pounds
Part 1 covered tips to correct foot faults through your footwork. However, your best service footwork intentions will be completely undone if you chase your toss. So Part 2 will cover tips to help make your toss a little less wonky.
Question: If someone's toss is the reason for their foot fault troubles, what advice would you give them? What kind of things can they do in practice to help their toss?
Answer: If you're having problems with your toss, make sure that you're not:
1. Bending your elbow,
2. Breaking at the wrist,
3. Rolling the ball from your fingers with spin.
All of these things make it hard to control the ball. You want a straight arm ending in a trophy pose with good knee bend, and a clean release of the ball with no flicking action. Ideally, you should be able to read the printing on the ball. Federer is one of the best at it, and of course Serena because of her consistent delivery.
To test your consistency, stand at the baseline in "serve ready" position with your racquet on the ground in front of you with the strings positioned where a correct toss should land. Then, try to see how many times you can perform your toss and have it land on the strings.
All of these tips will help give you a simpler and more consistent toss for better serve control…and fewer foot faults.
(SFTF Note: My personal struggles with the service toss mostly relate to rolling the ball on my fingers as it gets tossed, sending it too far to the left, right, or forward. Marla suggested that I practice releasing the ball as if I was releasing a balloon, palm up with all fingers releasing at the same time (much as in the picture with Mike Bryan at right). It has helped immensely, allowed me to hit my serve more consistently from the same position above my left shoulder.
Another thing to remember, as with anything related to your strokes, is that you need to relax to help keep your shoulders level and to help keep tension out of your arm. If your shoulders go up, your toss will go astray. If your arm gets tight, you won't be able to bend it behind you effectively. If you practice the tips above AND remember to relax and breathe when serving, you'll be well on your way to a more consistent serve with better control, and fewer foot faults.)
Need help with your service footwork? Check out the tips in Part 1.
Got a tennis question? Send it via email or tweet for "Ask Marla".
About Marla
Marla Reid is a respected tennis pro/coach in the San Francisco Bay Area. She's coached nationally-ranked teams and players, and has over 15 years of experience at the NCAA Division I, II, and III levels. Marla owns and operates City Racquet Shop in San Francisco CA.
About City Racquet Shop
City Racquet Shop offers, superior products/services, outstanding customer service, and a community-oriented destination for tennis players to shop, hang out and talk about tennis.
City Racquet Shop online: www.cityracquetshop.com
City Racquet Shop on Yelp: http://www.yelp.com/biz/city-racquet-shop-san-francisco
City Racquet Shop on Facebook: https://www.facebook.com/cityracquetshop
At the end of a hot, windy, and upset-filled fortnight, there's much to digest from this year's US Open. Serena Williams legitimately reached legendary status. The Bryan brothers reached a ridiculous milestone. Marin Cilic, a year back from his drug suspension, broke through for his first Slam title. And few can deny that the "Big Four" is officially on life support.
There's a lot of ground to cover, so let's dive right into my (25) final thoughts on the year's final Slam:
By defeating Caroline Wozniacki in Sunday's final, Serena Williams won her 6th US Open title, and her 18th Slam title overall. Additionally, by winning her third US Open title in as many years, Serena achieved a rare three-peat; a feat not seen since Chris Evert won four successive titles from 1975-78. With number 18 in hand, Serena joins an elite group alongside Evert and Martina Navratilova, one behind Helen Wills Moody's 19, four behind Steffi Graf's 22, and six behind Margaret Court's 24. However, NONE of these numbers really matter much in the grand scheme of things. Reaching 18 gives Serena more than enough legitimacy for any G.O.A.T discussions. (For more Serena discussion, check out 'Serena Williams – The Humanization of a Flawed Champion')
For her part, Caroline capped her resurgent summer season with an extremely strong showing to reach her second US Open final. Her victory over Maria Sharapova was one of the best in memory, and she can leave New York knowing that she left everything on the court in pursuit of her first Slam. Will she be able to keep up the aggressive play in 2015? It's unlikely. Though aggression was at the heart of her summer success, it's just not in her comfort zone. Also, it was fueled by her off-court personal struggles, but that won't always be the case. But even if she can keep the aggression in her game, that only gives her slightly better odds to go deep again at the big tourneys where, unfortunately, she'll continue to be outhit.
Marin Cilic, the newly-crowned US Open men's champion, has long been considered a contender, but was never viewed as a threat…and with good reason. Prior to winning his maiden Slam title, the Croat had won several ATP 250-level events, but never a 500-level tournament or Masters Series 1000. This win could serve as a catalyst for Marin to "backfill" his tournament resume, as it did for Stan Wawrinka after he won the Australian; hopefully without the follow-up loss of focus.
Kei Nishikori had an excellent tournament with huge wins over Milos Raonic, Stan Wawrinka, and Novak Djokovic. Unfortunately, he fell short in the final when he needed to step up the most. The wear and tear of too much court time slowed him down, and prevented him from imposing his ground game as he had done so beautifully against Novak. Kei has a history of physical breakdowns in big events when his body is pushed to the limit, but not this time. He made it all the way through without a single thought of retirement in his earlier battles. I hope he can keep that up in 2015.
2014 Slam Results, Part 1: The 2014 Slam winners were Li Na/Stan Wawrinka (Australian Open), Maria Sharapova/Rafael Nadal (French Open), Petra Kvitova/Novak Djokovic (Wimbledon), and Serena Williams/Marin Cilic (US Open). Let's break down what this possibly tells us about the future prospects for both tours, starting with the ladies…
2014 Slam Results, Part 2: For the women, the onslaught of WTA teen phenoms, formidable as they are, failed to make an impact at the highest level. Each of this year's Slam winners is a tried-and-true veteran, and that's no coincidence given the demands of the game. At this year's US Open, Spaniard phenom Garbine Muguruza flamed out in the first round. Canadian Genie Bouchard, the most hyped of the younger generation, fell in the fourth round. Swiss teen Belinda Bencic fared the best of the bunch with a R16 upset of Jelena Jankovic. And that's as good as it got. Just a thought: maybe the WTA should stop trying to push the younger players to stardom before they're ready, marketing dollars be damned.
2014 Slam Results, Part 3: For the men, the significance of two champions outside of the "Big Four" cannot be overstated. Prior to 2014, the last guys outside of that group to win a Slam were Juan Martin Del Potro back in 2009 (US Open) and Marat Safin in 2005 (Australian Open). This year saw two outsiders win (Stan Wawrinka in Melbourne and Marin Cilic in New York). Will we see a further erosion of the old guard in 2015? I think so!
The era of the "Big Four" is officially over. Let the debate begin.
Wimbledon champion Novak Djokovic ended his poor summer with a run to the semifinals where he was completely outplayed by Kei Nishikori. After his post-Wimbledon wedding and with the eminent birth of his first child, Novak is clearly distracted. He needs to have a serious sit-down with Roger on how to do the pro tennis thing with family in tow…
Roger Federer had a great summer, and played well through most of his time in New York. He fell short against Cilic's phenomenal onslaught, but shouldn't be concerned about any lingering questions of age. Even though he still needs a little help from the draw and scheduling gods for his best chances at another Slam, he remains an unwavering fixture atop the men's game. One need only look to Rafa Nadal's absence to appreciate that fact.
Though we all missed Rafa's presence in New York, he seemed to be having a great time at home with his friends in Mallorca. I could be wrong, but it really didn't look as if he missed this tennis thing all that much. We'll find out soon enough when he plays his next event.
If a quarterfinal showing qualifies as struggling, Andy Murray's Slam "struggles" continued in New York. I guess that also means that Amelie Mauresmo's struggles as his coach continued in New York. Why do I have a gut feeling that this partnership isn't going to make it to the end of the year?
Gael Monfils finally stepped up to the "big boy" table, put away his highlight reel mentality, and played the type of tennis that we all knew he was capable of in reaching his first US Open quarterfinals. I hope that trend will continue into the New Year.
Disappointment, Part 1: Disappointing is the only word I can think of to describe performances by Milos Raonic and Grigor Dimitrov at the Open. Both failed to back up their previous Slam showings in very uncharacteristic losses. I hope their teams were able to glean some positives from New York, because from where I sit, there were very few.
Disappointment, Part 2: After semifinal showings in Melbourne and Paris, and the final in London, Genie Bouchard came into this summer as the hottest player on tour. It all quickly fell apart for her, however, with first-round losses in Montreal and Cincinnati, and a second-round loss in New Haven the week before the Open. Much has been made about Genie's maturity, and her ability to handle the pressures that accompany elite-level tennis. Judging by her summer, as well as her subsequent withdrawal controversy from the Hong Kong tournament, she still has a ways to go.
A few years ago, the "Super Coach" phenomena was merely an interesting novelty. After a strong showing in this year's US Open men's semifinals, it's a novelty that's likely here to stay. The semifinals saw Chang vs Becker and Edberg vs Ivanisevic. The victors, Chang and Ivanisevic, squared off in Monday's final with Ivanisevic coming out on top. Anyone want to place bets on when we'll see Sampras and Agassi sitting in player boxes?
Broadcast Woes, Part 1: Cilic and Nishikori both played outstanding tennis to reach their first Grand Slam final. Unfortunately for CBS, the lack of a known quantity spelled doom for the oddly-placed Monday final ratings. As tweeted by Ben Rothenburg:


Women got a 4.0, more than double. RT @Ourand_SBJ: CBS's US Open Men's Championship drew a 1.9 overnight, down 32% from last year's 2.8.

— Ben Rothenberg (@BenRothenberg) September 9, 2014


This is not an indictment of Marin/Kei, but merely the reality of televised men's tennis without Roger, Rafa, Novak, or even Andy.

Broadcast Woes, Part 2: After a remarkable run that started in 1986, CBS aired its' final US Open match on Monday with the men's final. With no real allegiance to the CBS coverage, I hope the consolidated coverage on ESPN makes it easier to follow coverage in 2015 and beyond.
Broadcast Woes, Part 3: The tennis powers-that-be surely can't keep bemoaning the lack of support for tennis on TV when the coverage is so inconsistent and disjointed. I know that I've said this before, but how can anyone expect increased support from the casual tennis fan when even the diehard fans can't easily find televised matches for the biggest US tournament of the year? Some matches were on DirecTV, some were on ESPN, some were on ESPN2, some were on Tennis Channel, and some were on CBS. Heck, some were even on ESPNNews. Even when ESPN and CBS partnered to air coverage of different events during simultaneous coverage, they would inevitably switch to the over courts and end up showing the same match for brief intervals.  Honestly, it was a shit show! I realize that this is strong language, but it's the only language I can think of to adequately describe the ridiculous situation at the heart of languishing fan support for tennis in the US.
Broadcast Woes, Part 4: The last thing I'll say about the broadcast issues at the Open is on the bias shown by commentators who assigned to matches with American players. Honestly, it was disgusting. It's not that hard to show support for the home team without disregarding the other player on the court.
Here's a "Broadcast Thumbs-Up"! After listing in detail the broadcast issues of this year's tournament, I should also note the "good stuff". This includes Martina Navratilova's on-air wedding proposal (and acceptance) to her longtime partner, Julia Lemigova. When same sex wedding proposals start becoming the norm, it's safe to say that "We've come a long way, baby".
Steve Johnson retired from his first-round match after debilitating cramps in the August heat of a New York summer. That's the simple version of the story. The actual version was that Steve started to cramp, and fought it as long as he could without any MTO (medical timeout) help while also enduring the forfeiture of code violation points. All this as he lay on the court in tears, racked with pain and visible muscle spasms. Fast-forward to Peng Shuai's semifinal against Wozniacki, and the same situation was turned dramatically on its' head when Peng – suffering from cramps – was allowed to delay play before being taken off court by medical personnel for evaluation and treatment.
My gut impulse is to call out the outrageous of penalizing one player while allowing the other player over ten minutes of tournament assistance to help them compete. I'll temper that impulse by merely imploring the WTA, ATP, ITF, and Grand Slam committees to come up with clear and consistent rules regarding the distinction between and treatment of cramps versus heat illness.
On a more positive note, the Bryan brothers won their only Slam title of the year at the US Open, but boy was it a doozy! By defeating the Spanish team of Granollers and Lopez in the men's doubles final, Mike and Bob reached their mind-boggling 100th tournament title win as a team…and with no signs of stopping anytime soon. As Dick Enberg would say, "Oh my!"
BTW, can we stop with the "death of American tennis" stories already while we still have Serena Williams and the Bryans producing top-level results? (And NO, Patrick McEnroe's departure from USTA Player Development isn't going to help.)
Michaela Gordon, Noah Rubin, Francis Tiafoe, and Stefan Kozlov are NOT the saviors of American tennis. Can we all just let them develop in peace?
When I start kvetching like a curmudgeonly grandpa, it's time to call it a day on my final thoughts. Even with a few bumps in the road, it was an ultimately satisfying tournament with a nice mix of the new, the old, and the historic. And to be honest, I'm hoping that I witness all of this on the other side next year if I get a chance to work as a tournament official. Fingers crossed. Lastly, I never got a chance to mention anything about my time at the Connecticut Open, so I'll leave you with this: Run, don't walk, to Orangeside Donuts for the best freakin' donuts in New Haven.
Serena Williams earned entry to an elite group yesterday by defeating Caroline Wozniacki in the US Open women's final for her 18th Slam title. Afterwards, she was joined on court for a presentation by Hall of Famers Chris Evert and Martina Navratilova, the two other members of the "18" club.
Chris and Martina are tennis legends. By joining them with 18 of her own, Serena is in rarified air. Fittingly, it's an accomplishment for which she was given full due after the win. But it wasn't always this way for the 3-peating US Open champion.
Mention her name to anyone and they can tell you something about her. Generally the comments are positive ones about Serena's power, her dominance over the other women (particularly Maria Sharapova), and her presumably atypical body type for a tennis player.
Many are also justifiably negative, like those regarding her tirade towards the "foot fault" linesperson, or her treatment of the chair umpire after being called for hindrance against Sam Stosur.
Regardless of merit, they show precisely the reason why she resonates so strongly in a sport that previously boasted benign heroines like Evert. On her good days, she's almost mythical in her abilities. On her bad days, she's flawed beyond belief. It's that humanity that we either love, or love to hate.
But with this step up to "legend" status, she's become much more. In fact, her path to respectability reminds me an awful lot like that of another great champion: Andre Agassi.
Back in his younger days, Andre's ball-striking talent was undeniable. But along with that talent was a rebellious streak a mile long, and a piss-poor attitude to boot. He was all about the show, and didn't really care if you liked it or not.
After early success, Andre sank to spectacular lows. There were many who counted him out. But as he worked his way back from the tennis wilderness, crowds began to cheer for him in spite of, or maybe even because of, his difficulties. They continued this support as he went on to achieve late-career success.
When Andre finally retired, he'd completed a remarkable transformation from young punk to career-Slam champion and elder statesman. I believe the same will eventually hold true for Serena.
In spite of her talent, acceptance from the tennis establishment was initially begrudging, at best. There always seemed to be too much drama, like the Capriati fiasco at the US Open (that led to the use of Hawkeye), or the Henin "hand" incident at the French Open. Few players have been involved with as much controversy as Serena.
She's also did few favors for herself with the myriad of excuses that would flow after a loss. After losing to Davenport in the 2000 US Open quarterfinals, she exclaimed, "I don't know how I lost that match." Later, when told of a joke between Davenport and Hingis with regards to knocking them both out before the final, she stated: "Obviously, no one would want to see an all-Williams final because everyone doesn't really like us."
Excess drama, faux-outrage, and persecution pity parties aren't especially endearing. Consequently, many fans struggled to embrace Serena regardless of her early successes.
Then came the career-threatening injuries and the murder of her older sister, Yetunde. Serena still managed some big wins, but under extreme emotional duress. The turning point came after a seemingly benign foot injury in 2010 eventually led to a prolonged absence from tennis with a life-threatening pulmonary embolism.
Few things endear an athlete to their fan base like a life-or-death struggle. When Serena finally emerged from this health scare in order to compete on the grass at Eastbourne, adoration for her among fans, even those who'd once been indifferent, began in earnest.
To be certain, her transformation is still a work in progress. Her threat to shove a tennis ball down a line umpire's throat was appalling. Her tirade towards the chair umpire after a hindrance violation was also unnecessary. Fortunately for Serena, she's been able to hang on to the positive cachet built when one looks at her behavior in totality.
Also, let's not forget the crucial maturation that occurs for these athlete's over the course of their careers. Andre turned pro at 16, and retired at 36. Serena turned pro at 14, and is just shy of her 33rd birthday. Maybe we gain an appreciation for their humanity simply as a function of watching them struggle, then learn to be better champions as they get older because of those struggles.
Serena is by no means a perfect champion. She's played the game on her own terms, and begrudgingly gained our respect, admiration, and her own legendary status along the way. And in spite of all the drama we've witnessed over the years, it will still be a sad day when she leaves the game.
There wasn't much extra time for writing today, but I still wanted to throw my hat into the men's quarterfinal ring. So here are my quarterfinal quick picks for what look to be some pretty terrific quarterfinal match-ups.
Novak Djokovic (SRB) [1] vs Andy Murray (GBR) [8]
H2H: Djokovic leads 12-8
I can't believe that this is a quarterfinal match! After all, these two have contested 4 previous Slam finals with two won by Novak (Australia '12, '13) and two won by Andy (US Open '11, Wimbledon '13). Unfortunately for Andy, these were contested before his season-ending back surgery after last year's US Open. He's come a long way in his recovery, but is still not quite at the level needed to derail Novak.
Pick: Djokovic
Stan Wawrinka (SUI) [3] vs Kei Nishikori (JPN) [10]
H2H: Wawrinka leads 2-0
Kei played a great match to topple Milos Raonic in the R16, but was clearly running on fumes by the end. By contrast, Stan seems to be getting stronger and feistier with each round. With Kei on the verge of breaking down physically (again), I can't see him beating Stan, or outlasting him in a protracted duel.
Pick: Wawrinka
Tomas Berdych (CZE) [6] vs Marin Cilic (CRO) [14]
H2H: Berdych leads 5-3
This won't be the most exciting match of the four, but it will most definitely feature big hitting from both men. Cilic hasn't beaten Berdych on a hard court since 2011, and was fairly well-throttled in their last hard court meeting in the Rotterdam final (6-4, 6-2). On top of that, Cilic was pushed hard in his R16 4-hour (plus) marathon against Gilles Simon, while Berdych breezed past Dominic Thiem in just over 1.5 hours with the loss of 7 games. Bottom line: it doesn't look good for the Croat.
Pick: Berdych
Gael Monfils (FRA) [20] vs Roger Federer (SUI) [2]
H2H: Federer leads 7-2
Gael and Roger have the potential to be the most entertaining of the men's quarterfinal matches. However, after a grueling win over Grigor Dimitrov, I can't see Gael having the legs to withstand the oncoming Federer onslaught over the long haul. I'm sure there will be plenty of entertaining points, and a few jaw-dropping "Monfils Moments". But Gael's great run will end here.
Pick: Federer