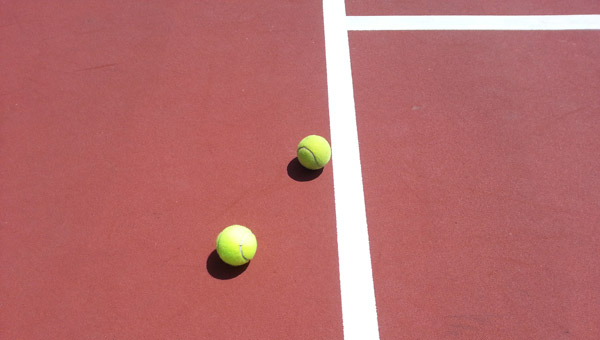 Many juniors have coaches who spend the lion's share of practice time on strokes and footwork. But one important component of their game that's sorely missing is the ability to correctly recognize an "out" serve.
Stop by any junior tennis tournament and you'll see what I mean. On top of great ground strokes and fierce defense, it's not uncommon to see juniors AT ALL LEVELS return serves that are 6-12 inches beyond the service line. Not surprisingly, many of these points end with disputed calls.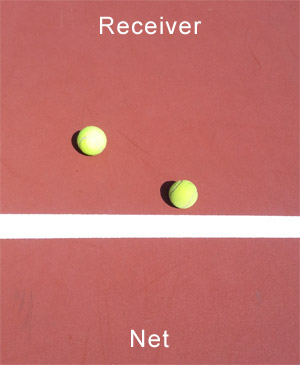 This isn't a commentary on juniors and bad line calls. It's merely an observation that we need to do a better job of training young players how to make good line calls; especially when receiving serve. The reason for this is twofold: accuracy and trust.
We can't expect players to make good line calls during a rally if we don't teach them how to correctly make calls when receiving serve. If their ability to gauge "out" balls on the service line isn't accurate, it only stands to reason the same will hold true for sideline and baseline calls.
Bad service line calls can also engender a lack of trust between players. If a server can't trust the receiver to correctly call a serve that's clearly out, they won't trust them to make correct calls closer to the lines later on in the rally.
There are a couple of things that coaches can do to help juniors improve their service line calls. Most have already talked to their players about the need to make good line calls. Perhaps they could also emphasize that correct service line calls are the first line of defense for proper line calls throughout the match.
Additionally, something as simple as placing tennis balls on the court (as in the picture at top and at right) can provide their players an excellent visual reference for balls on the service line.
Making good line calls, on the service line or otherwise, is a skill that can be learned, and is just as valuable to a player's overall development as proper stroke technique.
With a little help, our juniors can become great players as well as great sportsmen and sportswomen.
As a happy HEAD racquet owner, I tend to be a fan of their racquets. But as I've also stated before in previous HEAD racquet reviews (ahem, Graphene Instinct), not all HEAD racquets are created equal! Such is the case with the Graphene Radical Pro.
To be fair, it wasn't my intention to do a formal review of the Radical Pro. I simply went for a hit with a friend who'd received his new sticks. After some racquet chitchat, one thing led to another and I soon had one in my hot little hands for a quick comparison with my own Speed MP 315.
After hearing a lot of good things about the Radical Pro, I was expecting a positive hitting experience. To the contrary, it failed to live up to the hype. I'd expected better feel/control on my shots. Instead, I was completely unable to keep the ball on the court without significant changes to my stroke pattern.
Ground Strokes
My forehand suffered the most with the Radical Pro. Shots that usually land deep in the corners with my Speed MP were literally hitting the back fence. And any attempts to slow my stroke in order to keep the ball in play sent shots into the net. Accuracy went "out the window" as well. My favorite shot, the "inside-out" forehand, sprayed uncontrollably wide. And my cross court forehand was hit-or-miss at best.
Backhands weren't disastrous, but were certainly nothing special. While I managed to keep most of them from hitting the back fence, I struggled with accuracy as I did with my forehand.
Serve
The one part of my game that didn't suffer with the Radical Pro was the serve. I had decent control over serve placement, and was also able to slice it out wide with ease. The downside was a tremendous loss of power. As a player who relies on my strong serve as the foundation for the rest of my game, this would be unacceptable in any demo'ed racquet.
I switched between the Radical Pro and my Speed MP 315 every so often for real-time shot comparisons, and found that my Speed MP consistently gave me control that was sorely missing from the Radical Pro.
Conclusion
All in all, the Radical Pro was a bust for me. But since it wasn't a racquet I intended to buy, that didn't matter. The important thing was that it suited my friend's game; and it did that very well. It gave him more depth and spin on his shots than he could normally generate on his own. (For comparison purposes, he hit with my racquet and struggled to achieve the same depth on his strokes, and could barely muster any spin.)
So if you need more pop and added spin on your shots, this is a good racquet to try because of the slightly lighter weight/stiffer frame, and 16×19 string pattern. If you already generate your own pace and spin, this racquet won't help either, and will probably result in a loss of control. In short, I'd look elsewhere for a racquet upgrade.
HEAD Graphene Radical Pro Specs
Head Size: 98 sq. in
Length: 27in
Strung Weight: 11.5oz
Balance: 6 pts Head Light
Swing Weight: 326
Stiffness: 68
Power Level: Low
Swing Speed: Fast
String Pattern: 16 Mains / 19 Crosses
String Tension: 48-57 pounds
HEAD YouTek Speed MP 315 Specs
Head Size: 100 sq. in MP
Length: 27 inches
Strung Weight: 11.7
Balance:  6 pts Head Light
Swing Weight: 315
Flex: 65
Power Level: Low
Swing Speed: Fast
String Pattern: 18 Mains / 20 Crosses
Tension: 52-62 Pounds
From the start of the tournament (before I got off the plane) and through my 20-hour travel day afterward, here's a list of all 2014 Sony Open-related postings.
I hope you enjoy them.
ARTICLE/VIDEO POSTS
IMAGE POSTS
As with the BNP Paribas Open, I find myself with significantly more than my usual "Ten Final Thoughts" for this year's Sony Open. It's a very different experience when you're on the ground at an event, with much more information around every corner.  So to that end, I hope this list of 25 musings from Miami satisfies; starting with last Friday's shocking withdrawals.
First, I'm still shell-shocked from last week's double-withdrawals for the Sony Open men's semifinals. It was an unprecedented event on an unprecedented day that, frankly, caught EVERYONE off-guard. People are mad at Adam Barrett for his response, or lack thereof, to the withdrawals but, really, what could he do? Make Kei Nishikori play injured? Scold him for not telling everyone that he couldn't play sooner? Sue the restaurant that may have made Tomas Berdych sick? Send text messages to every ticketholder? Plead with Michael Chang (Kei's coach) or Aranxta Sanchez Vicario (in attendance) to put on an exhibition? Though no potential solution was tenable, everyone sorely wished that something…anything… could have been done to salvage the wasted day.
Speaking of Kei and Tomas, I wish them both speedy recoveries. Tomas should be better already, but Kei's groin injury is problematic. He's not a big guy, and he needs his movement to keep an edge over his opponents. He might be pressured into playing this weekend's Davis Cup matches in Tokyo, and that could put his clay season in jeopardy if he aggravates the injury. Keep an eye on that one.
Novak Djokovic is undeniably the Big Four's "Top Dog" after Miami. Following an atypical start to his year with no Aussie trophy, he beat Roger Federer in three sets to win Indian Wells, and then comprehensively beat Rafa Nadal for a fourth Miami title. Tellingly, I saw relief in his eyes after the Indian Wells win. This time, I saw pleasure and an enormous amount of self-belief. Make no mistake: Novak is back! Depending on Monte Carlo, Rafa's clay season might be a whole lot tougher this year.
Speaking of Rafa, the Spaniard was merely a bystander in the final against Novak. He served poorly, couldn't find the range on his backhand, never got a chance to impose his forehand, and couldn't figure out a single solution to his "Novak problem".  Afterwards, there was almost a sense of concession in his voice/manner that went well beyond the "Not my day" explanation that the top guys use to explain away a loss like this. Rafa knows that when both are playing their best on a hard court, Novak's weapons can neutralize his weapons much more easily than the reverse. If this carries over to clay, Rafa's ninth Roland Garros title might be in jeopardy.

Serena Williams beat Li Na for her seventh Miami title, adding yet one more line to an already-Hall of Fame CV. It was "vintage Serena", or at least what seems to be the current definition of that term. There was once a time when Serena dominated her opponents from start to finish. Nowadays, she starts slows and sometimes comes perilously close to defeat before storming back with the brilliance that we've come to expect. Regardless of why, it's impressive to watch and is also great drama. Serena doesn't win all the time, but it speaks volumes that everyone, her competitors included, know that she can if she's playing well. (And by well I mean 80% and above). Love her or hate her, I hope everyone can appreciate what she brings to the game.

There's no sugar-coating the fact that Li Na caved against Serena and, unforgivably, gave up a two-break lead before losing 11 of the final 12 games. Li Na has a great personality, a strong game, and a perfect husband to showcase her comedic skills. Moreover, she's a wonderful asset to the women's game. But one can't deny the mental weakness that she sometimes displays in big matches. There's simply no way that she should have lost the first set of that final. Carlos Rodriguez, has tremendously helped her game, but there's not much he can do about that.
I love Maria Sharapova's competitive nature, but it's now laughable just how absent that nature is when she faces Serena Williams.
Vika Azarenka, one of the few who legitimately competes well against Serena, was absent in Miami with her ongoing foot injury. I'm hoping it's not too serious, and that we'll have her back on tour soon. Serena badly needs a foil. And like it or not, Vika is the only one right now.
Aga Radwanska's physio-taped body is becoming more tape and less body. I worry for her 2014 at this rate.

Petra Kvitova beat Ana Ivanovic 3-6 6-0 6-0. That's all you need to know about Petra and why, Wimbledon title or not, she'll continue to struggle for legitimacy at the top of the women's game.

Roger Federer lost a tough match Kei Nishikori in conditions that I knew would be tough… for his game! Roger's game does best in quicker conditions. The conditions in Miami on that note were cold, windy, and heavy: an uphill battle for him. Still, it's nice to finally talk about his game these days and not his racquet or his back. And always remember that conditions matter!
Honestly, I just don't know what to say about Andy Murray anymore. In spite of his quarterfinal showing in Miami, there are still a ton of questions about where his head and heart are these days in the post-Lendl era.
Is it wrong of me to want Stan Wawrinka to carry himself like the Slam champion that he is?
Jo-Wilfried Tsonga's game is a mess. That is all.
Martina Hingis won the doubles title (alongside Sabine Lisicki) with smart and gritty play, fighting off several match points en route to the final. I don't buy into the narrative that her win is an indictment of the current state of women's doubles. Rather, it speaks volumes to the smarts of a great player who still possesses great hands, sharp court sense, and can maintain a positive court presence for her sometimes overly-dramatic partner. However, one can't deny the ridiculousness of a doubles match where all the players stay back from the net, or the improbability of winning a Premier event with serve speeds in the high-50s to upper-80s.

The Bryan brothers completed their Indian Wells-Miami double with a strong performance over the impassioned duo of Juan Sebastian Cabal and Robert Farah from Colombia. After watching the Colombian's Davis Cup-like support in previous matches against Peya-Soares and Sock-Harrison, I figured they might be tough to beat for the bros. ATP stat-man, Greg Sharko, reminded me that the Bryans are one of the best at playing against a hostile crowd. And so it came to pass!

Milos Raonic finally played up to the level of his hype in Miami, going the distance against Rafa and coming very close to an upset. I give him lots of credit for that result, but still need to see a big improvement in his awkward movement before I jump on the Raonic Slam bandwagon.
John Isner left Miami after a tough loss to Berdych in the R16. Though it's unclear how well his body will fare during the clay season, I'd like to take this opportunity to offer my support and belief in Big John. Contrary to popular opinion, John is working hard to take his game beyond the "win by tiebreak" level. I think that's admirable from a guy who could settle for relative comfort in his position as top American. It's also necessary if he wants to have a Top Ten presence.
On the lesser American male front, Ryan Harrison lost two winnable matches in Miami. The first was his 3-set second-round loss to Benjamin Becker, and the second was his doubles semifinal loss (with partner Jack Sock) against Cabal/Farah. A horrible tiebreak in his singles match and a horrible drop volley at 9-9 in the dubs match-tiebreak sealed his fate. Ryan is a hard worker with respect to his physical game. I hope the same can be done for his mental game.
With his loss to Nico Almagro in Miami, Sam Querrey dropped from his position as the #2 American. The new #2 is Bradley Klahn. No disrespect to Klahn, but this doesn't say much about our ongoing struggles at trying to regain American tennis glory.
Though the situation isn't as dire for the US women as it is for the men, it doesn't say much about our post-Serena/Venus prospects when Sloane, the anointed successor, is bounced 6-1 6-0 by Caroline Woniacki. Her on-court attitude is suspect, and she often appears indifferent. She also does herself no favors by saying things like, "I have 10 years of tennis to play." That's not the case if you get injured. Just ask Alexandra Stevenson.

Speaking of Wozniacki, this was a pretty good tournament for her! After a period of crashing out in several troubling first round matches, she competed well and earned consecutive breadstick-bagel match results over Sloane and Varvara Lepchenko. A 5-7 5-7 loss to reigning Australian Open champ Li Na should give her encouragement. That is, unless she gets distracted in planning for her wedding to Rory McIlroy.

Can we please stop the Caroline Garcia hype machine and let the poor girl develop organically? Didn't she suffer enough after Andy Murray's "future Slam winner" tweets?
It was great to see a balanced weekend of finals with women's singles/men's doubles combo on Saturday and women's doubles/men's singles on Sunday. (This is not the case for Indian Wells or Cincinnati.) The crowd likes it, and it gives a great perception of equal value for the two tours. Mr. Ellison, please take note!
After covering Indian Wells this year, I finally understand why some players gripe about Miami and its' failings in comparison. Larry Ellison's money has created a tennis tournament oasis with which few other tournaments can adequately compete. It's the same for the media, with ease, access, and benefits that few other tournaments provide. So it will be interesting to see what happens with the upcoming renovations starting in 2015. (I saw Sir Richard Branson there watching the Bryan brothers. Is he the Sony Open's "Larry Ellison"?) Anyway, don't let that deter from going. It's a great event and has an awesome South American feel. Check it out!
With that last unpaid endorsement, I'm out! I'd like to thank Tennis Panorama for allowing me to cover the Sony Open for their website, and look forward to my next assignment at Stanford's Bank of the West Classic. Until next time…


(P.S. I'm winning that media tourney next year!)
In a result that few expected, Novak Djokovic handily beat Rafa Nadal 6-2 6-3 in the Sony Open men's final for his fourth title in Miami (2007, 2011, 2012, 2014). The win is also his fourth Masters Series title win in a row (Shanghai, Paris, Indian Wells, Miami), and his second Indian Wells-Miami double.
More importantly, it was his third straight win over his Spanish rival before the start of the clay season, which could make for interesting drama in run up to the French Open.
Today's match between Djokovic and Nadal was the 40th meeting in what has become the most prolific rivalry in ATP history. Many expected today's match to provide an encore to their epic 2011 final. But after fending off his only break point in his first service game of the match, Novak eventually settled into a ground game for which Nadal had few answers.
For Nadal, the key to winning this match was threefold: serve well, vary his ground game, and defend the Djokovic "down the line" backhand with aggressive hitting on his own backhand. There were early signs, however, that Nadal's weaponry was misfiring.
He struggled to find the necessary depth on his crosscourt forehand, his backhand often sailed long, and Djokovic rarely allowed him to tee off on his preferred inside-out forehand. Conversely, once Djokovic found his range on his backhand and forehand shots, Nadal was on constant defense with little chance to assert his game on his Serbian opponent.
The crucial break in the first set came at 3-2 on the Nadal serve. Struggling to find his first serve, Nadal quickly sank to Love-30 with the help of a Djokovic touch volley winner and an untouchable crosscourt backhand winner. A timely unreturnable serve gave Nadal a glimmer of hope, but was quickly snuffed out by an amazing baseline-kissing Djokovic forehand followed by a Nadal backhand unforced error.
That one break was all that Djokovic needed to close out the first set in 39 minutes.
Nadal's usually reliable serve let him down badly in the final. His first serve percentage of 59% wasn't great, but his 47% second serve percentage was major a liability. Nadal's lacking offensive game stemmed from an inability to defend second serves that were often 80-90 mph. Then again, it's difficult to defend that speed at the top of the men's game, even with perfect placement.
There was concern that perhaps a flair-up of his earlier back issues was affecting his serve speed. Nadal, always reluctant to talk about injury issues, gave a curt, "I am fine.  Thank you very much" when asked about this in post-match press.
The second set continued as the first ended, with Nadal struggling on offense, and Djokovic confidently hitting every shot in his repertoire. There were moments when Nadal's offensive game surfaced, only to be muted by one of his many unforced errors on the next point. Nadal fought as best he could, but couldn't stop the inevitable as Djokovic ended the long championship point rally with a volley into open court.
Nadal ended the match with 15 winners against 20 unforced errors. Djokovic's numbers were significantly better at 22 winners against 14 unforced errors. In matches that are determined by a handful of points, it's hard to overcome this type of deficit.
For Nadal, however, the primary cause for today's final failures was the superior play of his opponent. Djokovic is one of the few players who can hurt Nadal when he's playing his best tennis. He can hurt Nadal in many ways, and with few defensive options.
"So playing against him is the worst thing that can happen for me, because in general, talking about the first two shots, he has a better return than my one, he has a better serve than my one in this surface, especially."
"Today Novak played at very high level in my opinion and was better than me."
In sharp contrast to the relief displayed by Djokovic after his win over Roger Federer at Indian Wells, the newly-crowned Miami champion came into today's post-match press conference smiling, happy, and obviously looking forward to continuing his momentum as the tour moves to European clay. He credited the confidence from that Federer win for much his strong play in Miami.
"That was a great confidence boost for me that I carried on in this week, and this tournament has been perfect from the beginning to the end.  The matches that I have played I played really well, and I elevated my game as the tournament progressed.  The best performance of the tournament came in the right moment on Sunday against the biggest rival (Nadal)."
When asked if he was glad that Djokovic existed to offer him a challenge", Nadal quickly (and jokingly) said, "No.  I like challenges, but I am not stupid."
In a telling reversal, Novak offered a very different viewpoint on the challenge of playing his rivals. "I think challenges, big challenges that I had in my career changed me in a positive way as a player. Because of Rafa and because of Roger I am what I am today…"
"Obviously it's not easy when you're playing a top rival at the finals of any tournament, but if you want to be the best, you have to beat the best, you know.  You have to win against the best players in the world. That's the biggest challenge you can have."
Nadal's loss in today's final continued a disappointing trend for Spaniards in Miami. No Spanish men have won the title in the tournament's 30-year history, and are 0-7 in the Miami final. Nadal lost in four of those finals, and is joined by David Ferrer (2013), Carlos Moya (2003), and Sergi Brugera (1997).