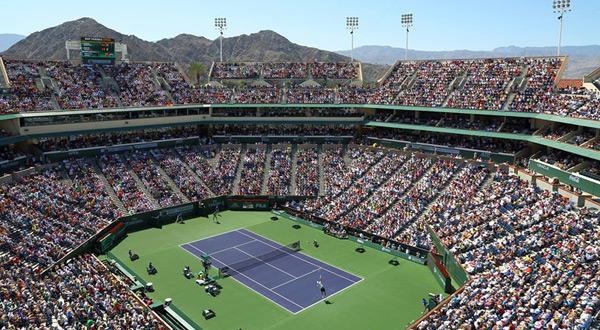 WTA
A Serena Williams-free BNP Paribas Open means a much more realistic chance at one of the year's biggest titles for the other top women. Conservatively, I'd say that 6 out of the top 8 seeds have a realistic chance to win, along with a couple of other Top 20 outliers! If the chips fall the right way, it's anyone's title to win. Let's take a look through the quarters to see which women have the best chances to make it through to the semifinals.
Top Half/Top Quarter
Li Na – Petra Kvitova
In spite of her Doha hiccup, Li Na has a great chance to take this quarter and go on to the final. She's finally found a coach that she can hear, and a path that she can navigate to manage her emotions against her expectations. Besides Petra, there aren't a lot of other women in this quarter, save Dominika Cibulkova and Ekaterina Makarova, who have a reasonable chance to beat her.
As for Petra, one never knows what to expect from her these days. Sometimes her fitness is good, sometimes it's not. Sometimes she plays like a Top 10′er, other times not so much. That lack of consistency is why Li Na will move through to the semifinals.
Top Half/Bottom Quarter
Maria Sharapova – Angelique Kerber
With torch-bearing/commentary duties in Sochi, Maria's had a whirlwind winter. Unfortunately, it's led to a distinct lack of matches for a player who needs a lot of match play in order to reach her best form. A R16 loss in Australia and semifinal loss in Paris don't bode well for her confidence. A healthy Flavia Pennetta could spell trouble: healthy being the operative word. There's been no word on her recurring wrist issues, but you never know.
Angelique has a chance to make it from the bottom part of this quarter, but will likely be knocked out by a resurgent Ana Ivanovic, who leads their H2H 4-2. (Please note that I'm weary of referring to Ana as resurgent.) All things considered (Maria's lack of matches, Flavia's wrist, Angie's losing record against her), Ana probably has the best chance to take this quarter.
Bottom Half/Top Quarter
Simona Halep – Victoria Azarenka
There are a couple of question marks in this quarter. The first is the status of Vika's leg. She's said that she still feels pain in it, but will attempt to play. But even if she does, I can't imagine that she'll have the sharpness necessary to make it out of this quarter.
The other is how will Simona react to the expectations of her new status? A first round loss in Brisbane was followed by a quarterfinal showing in Melbourne. But that was followed by another first-round loss, which was then followed by a title…and then another first-round loss. If the pattern holds true, she's got as good a chance as anyone of reaching the semifinals. Then again, so does Genie Bouchard.
With Vika on the mend, look for the Simona/Genie winner to reach the semifinals. My gut tells me to go with the plucky Canadian, so I'll go with Genie.
Bottom Half/ Bottom Quarter
Jelena Jankovic – Aga Radwanska
Jelena and Aga, the two highest seeds in this quarter, look to be the odds-on favorites to reach the quarters. Kaia Kanepi, Carla Suarez Navarro, Alize Cornet, and Elena Vesnina are all solid, but definitely not true contenders without Doha-like misfires from Jelena and Aga.
Since Aga leads their H2H 4-1, look for Aga to reach her second Indian Wells semifinal.
Quarter Picks: Li Na, Ana Ivanovic, Genie Bouchard, and Aga Radwanska
ATP
No disrespect meant to Andy Murray, but the Big Four is now temporarily back to being the Big Three (Nadal, Djokovic, Federer). Back surgery at the end of 2013 pushed back Andy's preseason fitness timeline, rendering him less than optimal for this spring season. But he's not the only one with performance issues coming into this tournament. Rafa got a title win in Rio. Roger got a title win in Dubai. Novak, however, has nothing to show for 2014.
When you add a guy like Grigor Dimitrov to the equation, you have some interesting title prospects in the desert. Let's take a look at the men's draw and see which guys have the most likely paths to the semifinals.
Top Half/ Top Quarter
Rafa Nadal – Andy Murray
There's no way that Andy can get past Rafa at this point in the season. But Rafa's place in the quarters isn't assured either. He's got a tough top section of this quarter with the likes of Alexandr Dolgopolov, Gael Monfils, and Fabio Fognini. He should make it by all three, but anything can happen in a best of three set tournament.
In the bottom section, Milos Raonic and Jerzy Janowicz have the best chance to make it through if Andy wobbles, which is possible given that his confidence isn't at its highest. But he can take heart from some gutsy play to reach the semifinals in Acapulco before losing to eventual champion, Grigor Dimitrov. Moreover, Andy has better 'tennis smarts' than both and much better defense.
Look for him to reach the quarters before losing to Rafa.
Top Half/ Bottom Quarter
Stan Wawrinka – Roger Federer
Look for this quarterfinal to be a battle for Swiss bragging rights between the newly-crowned Australian Open champ and the Greatest of All Time.
Before that, however, Stan needs to get through a likely opening match against Ivo Karlovic. Even with 2 titles under his belt in 2014, Stan hasn't played a tournament since his Aussie Open win. An upset isn't likely, but it's still a tricky match against an opponent who's more than capable.
Roger, on the other hand, has probably the best path to the quarters of any top guy. Kei Nishikori is his only real challenger, and that's not going to be much of a challenge for a guy who just notched some huge wins en route to a title in Dubai. Look for Roger to make it through to another meeting with Rafa in the semifinals.
Bottom Half/ Top Quarter
Richard Gasquet – Tomas Berdych
This is one heckuva tough quarter! At a glance, there are 5 guys with a legitimate shot at making it to the semifinals. In addition to Richard and Tomas, you can add Philipp Kohlschreiber, Grigor Dimitrov, and Ernests Gulbis. In terms of the draw, Richard and Philipp will battle for one quarterfinal spot while the Grigor/Ernests winner will battle Tomas for the other quarterfinal spot.
Richard lost to Philipp in Rotterdam, and has had an unspectacular year so far. So Phil looks good to get through on his side of the quarter. On the other, Grigor is on a roll now that the pieces of his game have finally come together. He should get by Ernests in a tough encounter. Tomas is at a higher level than Ernests, but will still be susceptible to Grigor's newfound confidence, and superior defense.
In a battle between Grigor and Philipp, sign me up for the Bulgarian Express.
Bottom Half/ Bottom Quarter
Juan Martin Del Potro – Novak Djokovic
Honestly, I don't know why Juan Martin is playing here after retiring due to wrist pain in Dubai. Defending points at the expense of further injury isn't necessary or smart. Look for Gilles Simon to step up and make a run for the quarters in his absence (when he retires again). Jo-Wilfried Tsonga is in this section as well, but he's become as unpredictable as Petra Kvitova these days.
In the bottom section, Novak could receive a test from Marin Cilic, but that's about it. He might be struggling in the latter stages of tournaments against Nadal and Federer, but he's still a class above everyone else. And that includes all the guys in his quarter.
Quarter picks: Rafa Nadal, Roger Federer, Grigor Dimitrov, and Novak Djokovic
"He's the nicest American player we've had in years …" That was the comment from a friend upon hearing that I'd sat down for an interview with James Blake.
James has always been mentioned as one of the "nice guys" on tour: more often than not, as part of the rap against him in big match losses. But that's also the thing that resonated with his many fans in an era of big egos and bad attitudes.
James retired in 2013 after a first-round loss to Ivo Karlovic at the US Open. In typical Blake fashion, it was a thrilling, five-set heartbreaker 6-7 (2), 3-6, 6-4, 7-6 (2), 7-6 (2). For many, this was the problem in rooting for Blake. Even with the immense talent he possessed (speed, smarts, and that killer forehand), James always seemed to fall short in his biggest matches.
One could also say that he did the best that he could with his talent, and left the game on his own terms. That's pretty much James' view of it all. He did what he loved, and now looks forward to whatever the future holds for him and his family.
I learned that and more in my sit-down with James before the evening session at the PowerShares Series in Sacramento. And yes, he really is that nice! Here are highlights from our sit-down.
How are you feeling after your win last night (in Salt Lake City)?
Feels good! It was close (though). The guy can still play. It's pretty impressive.
You've made quite a splash the PowerShares tour with successive finals and a title on your third try. Has coming on tour relit the competitive fire in you?
It's fun to have some competitive atmosphere. I haven't really been competitive – extremely competitive – besides a little bit on the golf course, here and there.
I haven't had that real competitive nature where you've got fans, you've got pressure, and things like that in six months or so. So it funs to feel that again. That's probably one of the biggest things I miss about being on tour.
So what don't you miss from your days on the tour?
I don't miss the travel. I don't miss feeling sore every morning when I wake up. I don't miss the absolute need for sleep so I can be absolutely prepared for every practice. There's a long list of things I don't miss.
But there's a long list I do miss too. It's something I loved doing, but I (also) love being home with my family right now. I can't feel any better than I do about that.
What's the first thing you did after the US Open and the Karlovic match?
The first thing I did was started feeling comfortable having a couple of beers with dinner, which was great… it was great to let loose, go to a BBQ with my buddies, and just be able to have a few beers and not feel bad about training, and how much it was gonna hurt in the morning.
You didn't last long in your retirement. Pete, as you know, took a long time to get back to tennis after his retirement. Why did you come back after only 5 months?
I always wanted to take a little time off. But I also feel like I'm getting a little antsy to try and do something. (I'd) like try to get into a different world like hedge funds or finance… or commentary, or do these exhibitions. But I was really excited to just have 4-5 months to just be with my family.
Have you been pushed into commentating? That seems to be the trend these days with popular players when they retire.
It's fun. I just need to figure out what's best for me. One of the biggest things I want now is a flexible schedule so I can be there for my kids. I don't want to be doing something 30 weeks out of the year.
But if I could do something with a flexible schedule, I'd love to be part of a commentary team. I had a great time doing it last year with Bret Haber and Jim Courier. I'd like to do that again.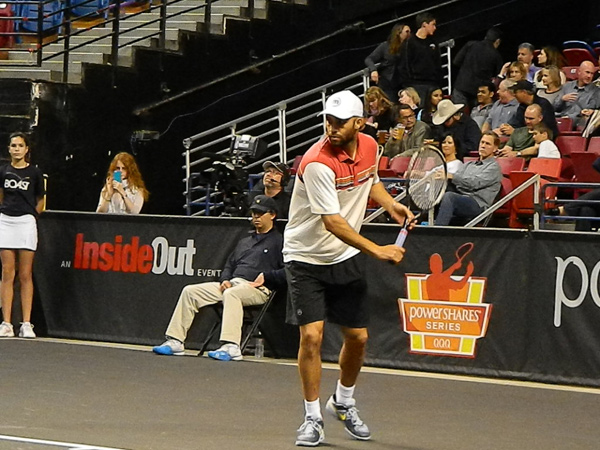 How is it being a dad?
It's unbelievable. There's nothing you can compare to it. I had so many ups and downs on the tour, but there's nothing like the pressure when you're one on one with your daughter and you're the one responsible for her safety, and her food, and changing her, and getting her to sleep on time: everything like that.
Do you think you could have traveled with your family the way Roger has managed to do on tour?
I'm kind of glad I did it the way I did it. It was just at the end of my career. I was comfortable and it was the right time.
We had my daughter travel with me to Wimbledon last year, and down to Miami. For me it forces you to maximize every minute; because you know you have only so many hours in a day, so many hours you spend with her, so many hours you spend with your wife, and so many hours you need to spend on the court.
I found that when my wife and daughter were there I wasn't sitting around the locker room playing cards with the guys. And I think Roger's done an unbelievable job of it.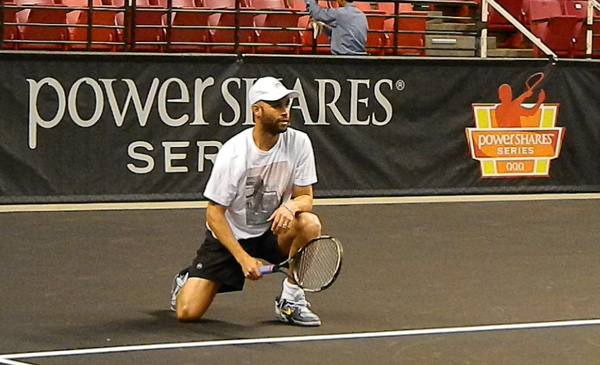 If you had to use one word to describe your career, what would that word be?
Fulfilling. I feel great about it. I did everything I possibly could.
So you don't buy into the talk that you could have done more with your career? You're happy with it?
Absolutely! Roger has won 17 Grand Slams and they say he could have won more. Rafa has won however many and they say he could have won more. Andy only won one Grand Slam – ONLY – and he should have won more.
Everyone has those few points they could have won, those few matches they could have won. But I also have a lot of first rounds I could have lost that I didn't.
Every one of those matches (I lost), I was frustrated as heck that night. But the next day, I was able to sleep comfortably and get over it because I knew I did everything I could to prepare for it.  So to ask for anything more, in my opinion, is just greedy. I did the best I could.
Last question. You still have rankings points. Is there any temptation…?
No. None.
Not even for doubles if you were to get a wildcard?
I think it would be fun, but I also don't think that I'm physically prepared for that. I'm prepared to come out here and play with these guys (on the PowerShares tour) one set at a time. But if I go out there competing with the big boys, I'd be hurting in a whole different way. Maybe if the New Haven tournament was still there for men, maybe I'd play…
And you'd have your "J-Block" there.
I still have a few friends there. But since then, most of them have gotten real jobs. So it might be a little tougher to get there. I'm sure I'd have a couple of fans out there and have some fun.
At an event like the Champions Shootout in Sacramento, the most important aspect of the night isn't always what it seems. Though we saw great tennis from Pete Sampras, James Blake, Jim Courier, and John McEnroe, it's not necessarily the result of the tennis that matters.
(Results: James Blake beat John McEnroe 6-3 for his second PowerShares win in as many days.)
For most of the fans who braved the blustery winds and rain to see them, it's the enduring interest in these iconic players, old and new, and what they have to say about today's crop of icons-in-the-making.
Johnny Mac wasn't in the most talkative of moods after the VIP hit with local players, so I focused my attentions on the other three guys. I had a few burning questions for each that I managed to get answered. I hope you enjoy their responses.
Jim Courier
What is your take away from this latest Davis Cup experience in San Diego?
My take away is that I should've been a little bit more firm with Sam earlier in the week to really get him to play full throttle tennis. I made a mistake there in not really getting on him to play the way that he plays best.
Sam is not a great defensive player. And if I would have been as forceful as I was with him prior to the (Andy) Murray match, I think we would have been in much better shape. And we would have found ourselves in a fifth match.
But I love working with these guys. I make lots of mistakes. And that's how I learn. Hopefully we'll get more chances to help these guys win this thing. It's been a great time for me. I really do enjoy those weeks even though they're very stressful. I really do like them.
What you can't control are injuries, and weather, and different things like that. But we do a pretty good job as a team I think, overall, of controlling most what we can control. But I can do a better job of getting out in front that going forward and I certainly won't be shy about doing that.
So you don't view that experience as a setback?
It's a learning curve, you know. Athletes have to look forward. So you have to learn from what's behind you, but you can't dwell on it. You need to move forward.  So that's what I'll do from my perspective, and I'm hoping that's what Sam's doing too.
Magnus Norman has never been put into the "super coach" category, but what he did with Stan (Wawrinka) over the time they've worked together…
…and (Robin) Soderling. He's two for two.
Yes. Do you think he's been given short shrift by the tennis commentating community?
Not inside the belt. Inside the game he has immense respect as both a player and a coach. He's a guy who was cut down in his prime by a hip injury, and he has done a terrific low-key job of getting the best out of his players so far. And he'll continue to get opportunities to work with great players because of that.
Pete Sampras
Did you feel for Stan (Wawrinka) when he was struggling against Rafa to close out his win at the Australian Open?
I've been in that situation. With Rafa, you felt at some point he was gonna retire. It gets awkward, and the whole stadium carries that awkward feeling. I think Stan was a little anxious, and Rafa started playing better. The crowd got behind Rafa a little bit…
He managed to do it in the end. But Rafa was obviously in pain. Stan played well though. Up until that point he was outplaying him. Up a set and a break in control of the match.
What do you think would have happened if Rafa had taken that fourth set and the match went to a fifth?
<laughs> I don't know…
Have you ever joked with Roger (Federer) about when he's going to hang it up? Is that something you could even joke about with him?
NO! <laughing>
We had one conversation at Indian Wells, a few years back. We were talking about how much longer he might play and I said, "Aw you gotta a couple, 2  more years." And he says, "I don't know. I think Mirka wants me out there six more years."
You know, Roger deserves the right to do whatever he wants. He could play another two days or six more years. But I tell ya, if he doesn't feel like he's as competitive…
James Blake
You still have rankings points in the ATP system. If someone were to offer you a wildcard to play doubles at a US tournament, would you consider it? Is there any temptation?
None. I think it would be fun, but I just don't think I'm physically prepared for it. I physically prepared for all my matches, and always did everything I could. At this stage (in my life) I'm not prepared. I'm prepared to come out and play with these guys one set at a time. But if I go out there competing with the big boys I'd be hurting in a whole different way.
(Stay tuned for my feature post on James and his post-tour life.)
World-class men's tennis returns to Northern California tonight with the Champions Shootout: the next stop on the PowerShares Series 12-city tour.  Featuring a roster of tennis icons and legends, the PowerShares Series combines the best of competitive tennis and fan appreciation in a condensed format that's fun for both the players and fans alike.
The last PowerShares visit to the Bay Area saw Jim Courier, John McEnroe, Andre Agassi, and Todd Martin battling it out for supremacy (and rankings points) in San Jose. This time around, Sacramento is the battleground. And stalwarts Courier and McEnroe are joined by Pete Sampras and series newcomer, James Blake.
McEnroe currently leads the rankings, followed by Courier and PowerShares newcomer Andy Roddick. Blake, however, is quietly making a run for the top spot after picking up his first PowerShares title with a 7-6 (5) win over McEnroe in Salt Lake City.
It's hard to believe that Blake only just retired from the pro ranks this past fall at the ripe old age of 28. Hard to believe, maybe, but understandable given the toll that injuries have taken on his body over the years.
After struggling in qualifying rounds through most of the 2012 and 2013 seasons, Blake made his official retirement announcement at the 2013 US Open, after a first-round loss to Ivo Karlovic.
With pro tennis seemingly behind him, Blake looked ready finally enjoy some quality time with his wife and young daughter. But the lure of competition proved too strong, so five months later he's back on the courts: hitting blistering forehands as though he never left, and having a good time with his old friends.
Blake's first outing in Denver ended in a finals loss to Andre Agassi. His second was another finals loss to his good buddy Roddick in Houston. The third time definitely proved to be the charm, however, with his win in Salt Lake City. At this rate, McEnroe had better watch his back in Sacramento!
The Champions Shootout begins at 3PM with a special "Play with the Pros" on-court hitting session with Sampras and Blake, followed by a second session featuring McEnroe and Courier at 4PM. Semifinal match play begins at 6PM, with the winners advancing to the finals immediately afterward.
Hope to see you there.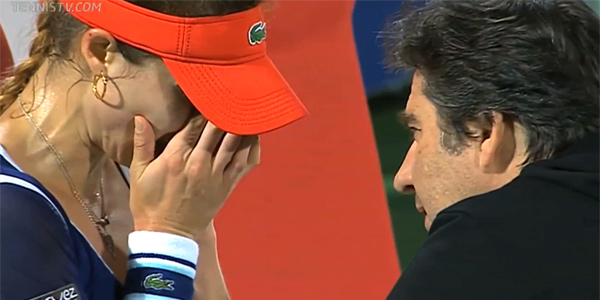 The Dubai final showcased both the best and the worst of women's tennis. Venus Wiliams represented the best in winning her 45th title. Alize Cornet, however, represented the worst when she sat in her chair and sobbed on a first-set changeover.
This may sound harsh, but it's hard to expect an average Joe/Jane tennis fan to respect women's tennis if their takeaway from the WTA's biggest even titles is that the top women cry when they're losing.
It's not that I think that crying is a sign of weakness because, John Boehner notwithstanding, I don't. We're all human and subject to emotional days where we feel like crying. I simply find it hard to stomach in a workplace or professional setting. Cry if you want, but you risk losing the respect of those around you.
In 'He Speaks, She Speaks', Audrey Nelson, citing Alice H. Eagly and Linda L. Carli's Through the Labyrinth: The Truth About How Women Become Leaders, hits the nail on the head when she quotes:
"…nothing reinforces the negative stereotype of women being ruled by emotions rather than professionalism like a crying woman professional."
Back in my webmaster days, I once had a manager start crying during a discussion of icon placement for our company website. She asked for my opinion, so I gave recommendations based on best web practices. She then proceeded to question every single one of my ideas. I finally acquiesced, saying "Let's put them where you want."
That's when the waterworks began. It was one of the most ridiculous and inappropriate situations I'd ever encountered in a workplace, especially from a manager.  I left that job with little respect for her or our work relationship.
Like it or not, this same standard applies to Alize. Even though emotions are quite high in the battle for a highly-coveted title, you're a professional. Suck it up, or go home! And for God's sake, don't reinforce the false stereotype that women, regardless of elite athletic prowess, will always cry under pressure.
Billie Jean King, a pioneer in the push for gender equality in tennis, worked for years to further respectability of the women's game. It was a titanic struggle that, with the help of players like Venus, finally resulted in equal prize money at all four Grand Slams by 2007. To this day, she continues her work to ensure a level playing field for all, regardless of gender.
Her work, along with the increased athleticism and star power of the top stars, has slowly erased the rap on women's tennis players as out-of-shape moonballers. Serena Williams and Maria Sharapova fill stadiums all over the world with fans that are eager to see their incredible ball-striking along with a touch of celebrity glamour.
In an era when the WNBA still fights for greater public acceptance (along with greater revenues), and comments like "Women's hockey is unwatchable, even on the Olympic level" (true story) are leveled at the best female hockey players in the world, the case for women's sports and women in sports can only be hurt by tears "in the heat of battle".
And as a counterpoint, think of the derision a male player would receive if he cried on court if the situation got too tough? Few players outside of the Big Four could survive that PR nightmare. Sure, we could have politically-correct discussions on the need to allow for greater emotions from both sexes, but the bottom line would still be a tennis product weakened by public perception.
The WTA has spent millions on their "Strong is Beautiful" campaign to promote their product.  Let's hope that Cornet's waterworks don't undermine those efforts.