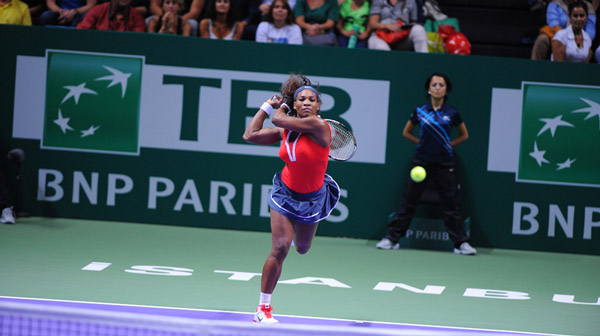 To say that 2013 was one of the best years of Serena Williams' storied career would be an understatement of epic proportions! Here are some high-level stats from her impressive year:
Serena finished 2013 with a 78-4 record that included a 34-match winning streak, the longest of her career
She won 11 titles on the year, including 2 Grand Slams (French and US Open)
She's won a total of 17 major titles, behind only Margaret Court (24), Steffi Graf (22), Chris Evert (18), and Martina Navratilova (18)
She was the year-end #1 for third time in her career, the oldest #1 in WTA history, and 6th on the list for # of weeks at #1
She earned a record-breaking $12,385,572 for the season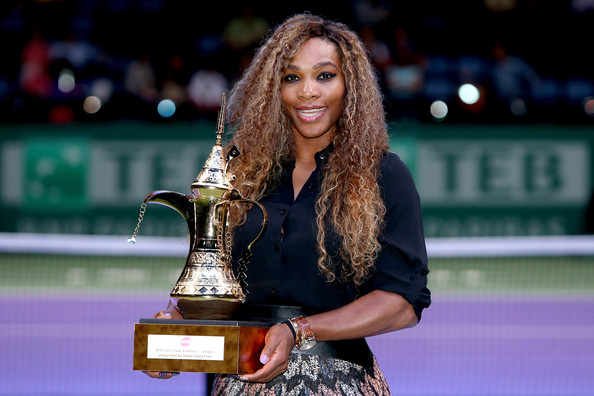 That's just the high-level stuff. I could go on for days listing her stat achievements, especially with respect to her legendary serve. She served the fastest ball on tour this year at the Australian Open (128.6 mph/207 kph). Only her sister, Venus, has ever hit a faster serve on tour. It's clear, however, that there's more involved than "serve speed" when you look at the other women at the top of that list (Lisicki, Vandeweghe, Keys, Stephens, V. Williams, Gajdosova, Paszek, Hradecka, and Stosur).
I encountered this "serve" gem while perusing Courtney Nguyen's Twitter timeline. The original stats were in a graphic that I've converted to text.
Service Games Won
2008: Serena Williams:  79.4%
2009: Serena Williams:  77.6%
2010: Serena Williams:  81.4%
2011: Serena Williams:  85.4%
2012: Serena Williams:  87.5%
2013: Serena Williams:  84.1%
Note: Williams led the category for the sixth straight year.
Serena's winning pursuits tend to begin with her amazing serve, but I could probably find similar stats to support almost every part of her game. The point is that she is, without a doubt, the dominant player of her generation, and one of the most dominant players ever to play the game.
On the heels of her successful title defense at the WTA Championships, is it a fair question to ask if Serena is the best ever to play the game?
Though she shows no signs of retirement, it's definitely a fair question. But is she really the best ever? Not even close. And I say that at risk of further stirring the pot I got going after posting my plans for this piece. There were passionate feelings on both sides ("Definitely yes!" and "Are you kidding? No way!"), but only a relative few that took into account the last bit of work needed by Serena to have a legitimate claim to that title.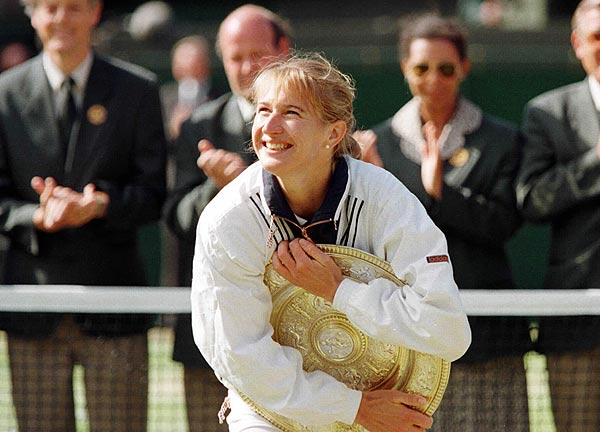 Serena is in tennis' rarified air with four other women for the title of "Greatest Ever": Margaret Court, Steffi Graf, Chris Evert, and Martina Navratilova. Not surprisingly, these are also the women that Serena is chasing in terms of major titles won. All are great champions, but one stands out strongest as Serena's toughest rival for best ever. That woman is Steffi Graf.
I respect Court's 24 major titles (if not her off-court stances on various social issues), but she played in an era that is not wholly comparable to the Open Era game. Comparisons between eras are often fraught with bias, but one can only view her titles – mostly won on grass – as indicative of one of the best grass court players ever, not "best ever".
Chris Evert and Martina Navratilova are great champions. In terms of our comparison, they both played in an era that I view as more comparable to the environment in which Serena plays i.e. more varied court surfaces. Unlike Court, both of these women played AND won on a variety of surfaces, though admittedly Evert prospered on clay while Navratilova lived for the grass at Wimbledon.
Being great champions, however, is not quite the same as being the "best ever". If Serena wins number 18 and ties their major title total, I'd automatically put her above them. I love them both, but Serena's mastery over her game and her opponents tops both of these women by just enough to knock them out of contention.
That leaves me with Graf in the octagon for the top spot! Her achievements are beyond belief, and go well beyond just the 22 major titles. She is the only woman in the Open Era to win a calendar-year Grand Slam in 1988. With her win at the Seoul Olympics that same year, she achieved a "Golden Slam"; a feat that has yet to be matched by any other player, male or female.
She's won each of the majors at least four times (4 Australian, 6 French, 7 Wimbledon, 5 US), and has won the WTA Championships five times. She's married to the also-legendary Andre Agassi, whose total of 8 major titles and a career Grand Slam pales in comparison.
Many point out that her numbers might well be different if not for the attack on Monica Seles. But we can't speculate in what might have been. We can only look at what was achieved, and those achievements are outstanding.
For Serena to be considered the "best ever", she needs to equal Graf's total of 22 major titles at a minimum. Given Serena's history of physical struggles, and her status as one of the grandes dames of the WTA tour at the ripe old age of 32, those 5 titles that separate the two could be a huge undertaking for the current #1.
But for the sake of argument, let's say that she manages to reach 22. If she can do so while managing a calendar-year Grand Slam (no the Serena Slam doesn't count), we've got a legitimate contender. It wouldn't need to be a Golden Slam either, because she has a bonafide claim to Olympic greatness with 3 gold medals in doubles (with sister Venus), and a singles gold medal from her crushing defeat of Maria Sharapova at the London Olympics. Olympics aside, however, she must reach 22.
Like Serena, Graf was easily the dominant player of her generation. Yes, she had her struggles against Seles, much like Serena did with Justine Henin, but she was never truly contested at the top by anyone else. She didn't have the flair of Serena off the court, but then again, flair isn't required for best ever. It's a "nice to have", but not necessary.
If, however, Serena reaches that 22 total, flair might just be the deciding factor for me. For now, we must wait to see what 2014 will add to this discussion. Here's to a potential #18 in Australia…
I grabbed my phone and tripod, hopped into my car, and headed out to the USF Cleary courts on a sunny (but very cold) day in San Francisco to shoot a quick video chat for the site. Topics discussed include the USF Dons, Serena Williams' credentials as "The Greatest Ever" (I love stirring the pot), and a short discussion/reminder on tips for your tennis off-season.
I had a blast making it. And now that I have a tripod mount for my phone, you can expect to see a  lot more of them down the road in 2014.  Enjoy!
(SFTF Note: RIP Nelson Mandela. What a great man!)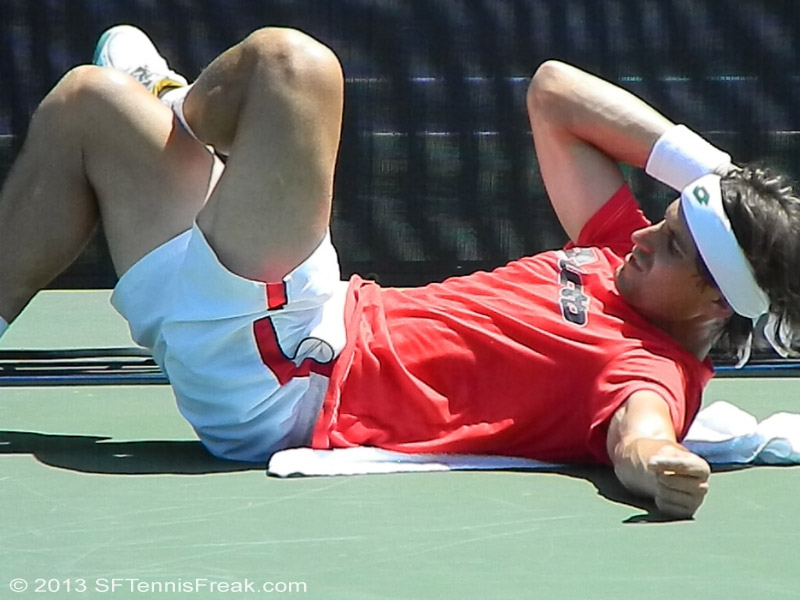 I recently posted 3 separate installments featuring tips to help you and your game in the off-season as part of my Ask Marla series . Here are all  three article links in one place for easy bookmark-ing:
Tips for the Off-Season Part 1:  Take Stock/Take Time Off
Tips for the Off-Season Part 2: Off-Season Training
Tips for the Off-Season Part 3: Equipment Changes
Good luck, and hope they help your upcoming season!
I woke up in a funky mood today because of an incident that happened yesterday on the courts. In a series of Friday tweets, I described an egregiously bad call that was made by one of my opponents during a set of social doubles, and the subsequent questionable behavior to that call by his partner.
More than just a rules issue, this incident bugged me so much that it clearly warrants a greater discussion on the broader issue of personal integrity within the game. This is how it all went down.
My partner was serving to the deuce court and hit a first serve wide that landed about a foot inside the sideline. The net man on the opposing team, confused by the ten and under lines on the court, called the serve out. Though we immediately stopped play to protest the ridiculousness of the call, he honestly believed he made a correct call.
I pointed out several previous bad calls, including an impossible call of a ball going under the net a few weeks ago, that he'd made in recent weeks and he relented, suggesting that we "Take two."  I said, "No. The ball was clearly in and the call was bad, and you know it. It's our point."
(This type of dispute is outlined in Friend at Court – The Code, Part 2, #12 – Out calls reversed.)
That's when his partner, the returner for the contested point, finally decided to chime in. Not to admit the bad call on a serve he knows landed well in, but to fight me on the point by saying with a straight face: "Well that's just your opinion. I didn't say anything. It was out in your opinion."
Needless to say, his brazen "lying by omission" didn't help the discussion. Particularly since this was the second instance in which he was dishonest about a clearly blown call during a set. Also, it must be added that this isn't a newbie. This guy has been around the game for years. For someone of his level, his behavior was actually pretty outrageous!
My partner and I finally settled on up playing the point over so as to avert WW3. After all, this was just a tennis game and not worth a protracted fight. We went on to win the game, but the damage to the social aspect of the set was done. We lost the set, and then both moved over to the second court to avoid playing with them again.
I've said it before and will surely say it again: we all make bad calls. Even veteran officials, with training, make errant calls. The point is in how you deal with the call. Thankfully, the USTA has rules to deal with most of these types of issues in sanctioned events. In social settings, however, all you have is the integrity of the participants.
I'd much rather play with someone who makes the occasional (and unintentional) bad call than the guy who looks me in the eye and then lies to me to justify the cheating response after the call. Some may say this is extrapolating too much, but that action – good or bad depending on your point of view – tells me an awful lot about what someone's willing to do in order to win a point.
In the end it's all about what's personally more important to you. For me, foot faults and minor stuff like that don't really matter. Trying to make good calls (and being honest when you don't) does. If you can't trust the person on the other side of the net, then why bother?
If those things don't matter to you AND you can keep the game social and fun, then more power to you! Also, I've got a bridge to sell you…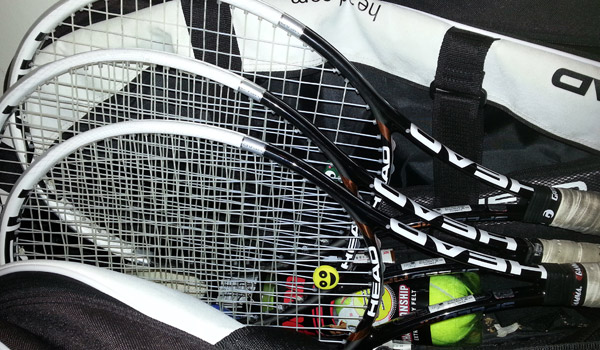 This is the third of a three-part series (Take Stock/Take Time Off, Training Tips for Upcoming Season, and Equipment Changes) that will focus on things you can do to help your game during the off-season.
Question: Is this a good time to make equipment changes?
Answer: With regards to equipment, this is definitely time to think about making changes. Start doing some research, find out what's new and what's coming out (that may help your game), and talk to someone who knows about the equipment you're interested in i.e. racquets, strings, etc.
If you're going to demo a racquet I'd highly recommend waiting until the first of the year. That's when the new products will be out and in the stores. It's the best time to demo and hit with all the latest and greatest! So hold off on any new racquet purchases until then.
Question: How about changing strings. Is this the best time to make a change or is it okay to experiment throughout the season?
Answer: If you're going to get a new racquet, I would hold off strings because it all depends on your game and the racquet. Talk to a local pro about your game and what you're looking to achieve. Do you need more control? Do you want to develop more spin? Get advice on strings that might be able to help you achieve the goals of your game.
With respect to racquets, there are many factors that can affect your strings such as open/closed string patterns and racquet stiffness. Are you looking for durability, or are you looking for playability. Keep in mind that changing your string tension can also make a big difference in your game without changing strings. Just remember that you have to be willing to experiment to find what works best for you.
(SFTF Note: I wholeheartedly agree on talking to a trusted local pro before making any major equipment changes. Because I'd previously taken lessons with Marla, she knew my game, knew my goals, and successfully guided me to my current racquet (HEAD Speed MP 315).
Marla also convinced me to string my racquets with a hybrid combo that gives me great playability yet also helps my string jobs last for more than three weeks. Lastly, her familiarity with my shoulder issues led to a push for reduced string tension from 60 pounds to 52. Besides feeling better on my shoulder, the reduced tension helps my string jobs last even longer.
These are the type of customized suggestions you could never get from random online reviews. I love my racquet, love my strings, and feel like my game continues to evolve and improve. All thanks to the help I received from my local pro.
You want my advice? Take the time to get help from a trusted pro/coach in your area. Any type of equipment changes you want to make, and their associated mental/financial costs, will be well worth the effort when you successfully come out on the other side!)
Got a tennis question? Send it via email or tweet for "Ask Marla", a (hopefully) weekly (or biweekly) question-and-answer with Marla Reid of San Francisco's City Racquet Shop.
About Marla
Marla Reid is a respected tennis pro/coach in the San Francisco Bay Area. She's coached nationally-ranked teams and players, and has over 15 years of experience at the NCAA Division I, II, and III levels. Marla owns and operates City Racquet Shop in San Francisco CA.
About City Racquet Shop
City Racquet Shop offers, superior products/services, outstanding customer service, and a community-oriented destination for tennis players to shop, hang out and talk about tennis.
City Racquet Shop online: www.cityracquetshop.com
City Racquet Shop on Yelp: http://www.yelp.com/biz/city-racquet-shop-san-francisco
City Racquet Shop on Facebook: https://www.facebook.com/cityracquetshop