I wasn't able to do any pre-tournament write-ups or picks for this year's US Open because of my assignment in New Haven. But now that I'm back in San Francisco with a bit of free time on my hands, the quarterfinals seemed like as good a place as any to get back on the horse and make some picks for the last Slam of the year. Ladies first!
Belinda Bencic (SUI) vs Shuai Peng (CHN)
H2H: No previous meetings
There's no match history between these two players, so there's not much to say on the prospects for this match other than generalities.
Bencic has played good tennis to reach the quarters; particularly in her match against the veteran Jelena Jankovic. I fully expected Jankovic to dig deep into her bag of tricks for a win against her 17 year-old opponent, but it didn't happen. Bencic, young and prone to some impatience/volatility, kept it together on one of the game's biggest stages; and in one of the biggest matches of her life.
Can she give a repeat performance in the quarters? That depends on her opponent, Peng Shuai. Peng steadily knocked off an impressive roster of players in reaching the quarters (Zheng, Radwanska, Vinci, and Safarova), and did so impressively without dropping a set. She's not a flashy player, and doesn't possess any huge weapons. But she will make you play solid and consistent tennis to beat her.
Bencic is certainly talented enough, but I'm not sure if she's steady enough at this stage in her career to rise to the occasion in a Slam quarterfinal. For that reason alone, I'll go with Peng. But I won't be surprised if it goes either way given the volatility of this year's tournament.
Pick: Peng Shuai
Caroline Wozniacki (DEN) [10] vs Sara Errani (ITA) [13]
H2H: Wozniacki leads 2-1
Underestimate Sara Errani at your own risk; especially after her revenge-fueled victory over Venus Williams the other day. It wasn't pretty. And yes, Venus is not the "Venus" we remember from her pre-Sjogren days. But none of that mattered in the end. Sara came away with the hard-fought victory, and has a chance to redeem her disappointing year in singles.
The same could be said for Caroline. After spotty results earlier in the year, she's played like Dane possessed during the summer hard court swing. She took Serena the distance in their two last tournaments (Montreal and Cincinnati), and knocked out Maria in a brilliant R16 match to reach the quarters. She's serving harder, hitting her forehand harder, and is notably mixing up her shot patterns to keep opponents off-balance. Moreover, her backhand winner on match point against Maria, a pre-2014 rarity, tells you everything you need to know about where Caro is with her game. (Hint: aggressive.)
I don't want to risk getting Sara riled up again, but I'm going with Caro in this one. Sara has picked up her game, but Caro's the one most primed for a breakthrough.
Pick: Caroline Wozniacki
Serena Williams (USA) [1] vs Flavia Pennetta (ITA) [11]     
H2H: Williams leads 5-0
Serena is, of course, the prohibitive favorite in any match-up at any tournament. But this particular version of Serena is a bit more vulnerable and prone to meltdowns than the one we've come to know in recent years. With time winding down on her Hall of Fame career, she's put tremendous pressure on herself to reach coveted milestones. That pressure has virtually crippled her in the Slams this year, with early exits in Melbourne, Paris, and London. It says a ton that this is her first Slam quarterfinal of 2014.
Flavia's year has also been underwhelming after her early success in winning the title at Indian Wells. Her match results have been unpredictable at best, and haven't come close to those reaching the earlier highs of the year. In spite of it all, she's made it through to the second week, and is facing off against Serena for the second time at the Open.
Unfortunately for Flavia, she's only won a grand total of six games in her last four hard court sets against Serena. Even in a tournament filled with upsets, this does NOT bode well. I'm picking Serena to reach her first Slam semifinal with a routine win over the Italian.
Pick: Serena Williams
Victoria Azarenka (BLR) [16] vs Ekaterina Makarova (RUS) [17]
H2H: Azarenka leads 3-2
Ekaterina won their last match on clay in three sets (2013), but has yet to beat Vika on a hard court. She's a great player with big weapons who has managed some stunning Slam upsets over the past couple of years. Unfortunately, she's never backed up those upsets in the later rounds when the pressure was at its' highest.
Vika, on the other hand, lives for the big moments in the big matches. Sometimes she's a bit too prickly on court for my taste, but you can't deny her competitive fight. It's taken her to the Open final the past two years, and could very well again for a hat trick of final appearances in successive years.  She came into New York with a ton of rust and lack of match play, but she's found a way to make it through.
She may not be playing her best tennis right now, but I've got to go with Vika for the win on her chutzpah alone.
Pick: Victoria Azarenka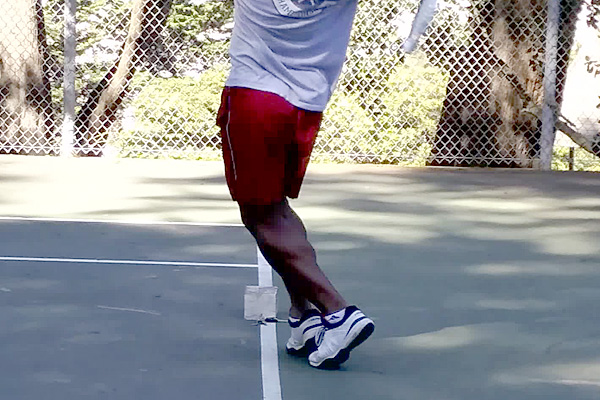 It's been a while since my last "Ask Marla", so I'm offering up a two-part piece on a matter of concern to all tennis players: foot faults. Many players foot fault, but most don't know how to stop. So I asked Marla about foot faults, and some tips to help fix them.
Part 1 covers tips to correct foot faults, and Part 2 will cover other aspects of the serve that can contribute to foot faults, such as chasing your toss or inadequate knee bend.
Question: Do you have any tips to help players check if they foot-fault and fix it if they do?
Answer: The easiest thing a player can do is to back away from the baseline before hitting their serve. I don't like doing that, however, because you give up valuable ground if you only have a marginal serve. The better alternative is to figure out which feet step over the line, and then work to stop them.
Try setting tennis balls in front of your feet when you serve: one in front of lead foot and one to side where back foot pulls up.  Whichever ball moves (i.e. gets kicked or stepped on) will let you know the offending foot (or feet). Afterward, you can adjust your serve accordingly to better anchor your feet (for greater serve accuracy), and to better minimize potential foot faults.
Of course, the best option for checking foot faults is to have a friend take video or pictures of your serve along the baseline. This will clearly show which feet cross the line on your serve.
(SFTF Note: I've also struggled with foot faults. After watching a ton of matches with top-ranked players, I noticed that many barely move their feet when serving. So I've recently begun anchoring my front foot, the usual offender, to help clean up my service footwork. I also tried Marla's tennis ball option to catch any movement across the line, but also used other items such as my keychain, a spare racquet, and a brick. 
The brick actually proved to be the most helpful for me because of its' size. There's no way I could deny hitting it on the line if I crossed. The pictures at right shows a practice serve with the brick. The picture series below shows my cleaner footwork afterward. All pictures were taken by my phone on a tripod. The brick is a great tool, but pictures are indeed worth a thousand words! Whatever option you use on the baseline, try to supplement it with pictures or videos.
Chasing your toss across the line, or losing power because of knee bend now that your feet are anchored? Stay tuned for Part 2.
Got a tennis question? Send it via email or tweet for "Ask Marla".
About Marla
Marla Reid is a respected tennis pro/coach in the San Francisco Bay Area. She's coached nationally-ranked teams and players, and has over 15 years of experience at the NCAA Division I, II, and III levels. Marla owns and operates City Racquet Shop in San Francisco CA.
About City Racquet Shop
City Racquet Shop offers, superior products/services, outstanding customer service, and a community-oriented destination for tennis players to shop, hang out and talk about tennis.
City Racquet Shop online: www.cityracquetshop.com
City Racquet Shop on Yelp: http://www.yelp.com/biz/city-racquet-shop-san-francisco
City Racquet Shop on Facebook: https://www.facebook.com/cityracquetshop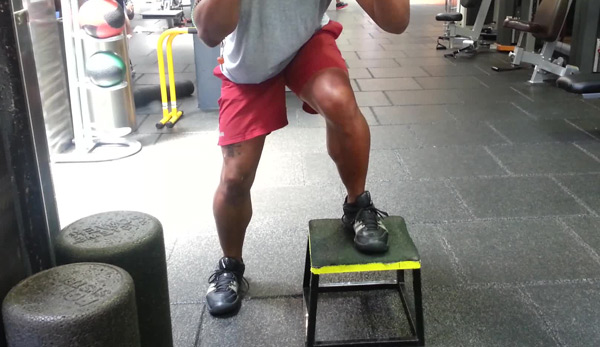 For the past couple of months I've made occasional (and cryptic) Twitter references regarding changes to my gym routine to achieve better #TennisFitness. But since a hashtag means nothing without context, now is as good a time as any to explain what exactly I mean by "tennis fitness".
As a former professional dancer and lifelong athlete, I'm in pretty good shape. That's irrespective of my 50 years and two surgeries on my right shoulder and knee. For the most part, I'm able to enjoy a fairly rigorous level of activity that includes playing tennis 2-3x a week, and going to the gym pretty much all of the other days that I'm not playing tennis.
Before the start of my #TennisFitness changes, my gym regimen consisted of riding a stationary bike at increasing levels of resistance, and lots of core work – ab wheel and crunches. The time on the bike was a good way to get cardio without stressing my surgically-repaired knee, and the core work helped support my serve for less strain on my shoulder. (Having a six-pack ain't bad either.)
In spite of my muscular build, I never lifted weights. My body builds muscle very easily, and that excess mass isn't helpful on a tennis court where any excess can you slow you down and get in the way of making quick footwork or shot adjustments.
This regimen worked decently for my tennis preparedness until late last year. Overall muscle stiffness in my torso and soreness in both knees/lower legs became the normal order of the day. And though I've adjusted my diet and supplements to help alleviate a good deal of inflammation, the level of pain was sometimes more than could I could bear, or that could be controlled with over-the-counter doses of ibuprofen.
Even so, one thing was very clear to me. I needed a better training regimen, not better pain meds!
When I wrote 'Tips for Better Tennis Fitness from Jackson Bloore', I was badly in need of advice to help me better prepare for my on-court activities. And that's exactly what I got from Jackson.
Jackson broke it down perfectly, and got me to understand that static conditioning (my bike and core work) couldn't possibly prepare my body for a sport like tennis that requires explosive movements. For 30 minutes, we chatted about my goals while he responded accordingly with workout suggestions to help achieve support them.
I needed to re-focus my gym time on my legs, and preparing them for the explosive movements necessary for tennis i.e. quick movements side to side, back to front, and front to back. Exercises suggestions include lunges, ladder work, step ups onto platforms, etc. Admittedly, I had stayed away from leg work due to fears of causing more knee damage. But by doing so, I had probably made them more likely to get injured.
Moving on to my upper body/torso, any gym time spent on those areas needed to also support the explosive movements needed for my game i.e. service motion, torso rotation (for groundstrokes), etc. Exercise suggestions from Jackson included low-weight cable chops, quick dumbbell presses, and clap pushups. If I wanted to maintain core work, it also needed to be less static and more dynamic.
Though these were all quick suggestions off the top of Jackson's head, I began to see the many ways in which I could incorporate the idea of "explosive movements" into my gym routine. It made perfect sense to me. And frankly, anything that could help reduce my overall level of pain was something I was willing to try.
Surprisingly, it only took a couple of weeks for me to start feeling positive changes in my body before, during, and after play. Whenever I hit the courts now, my body feels more prepared and needs less warmup time. Afterward, I hurt a lot less. In fact, there are many days I don't even think of taking ibuprofen after tennis. That, by itself, is worth any changes I've had to make to my gym regimen.
Best of all, I'm playing better tennis because I'm not making as many accommodations for my physical condition. That's a win on all levels!
As I settle into my new routine and exercises, I will share what I discover in a new #TennisFitness feature so that I can help others achieve similar benefits to their physical conditioning and, hopefully, their game.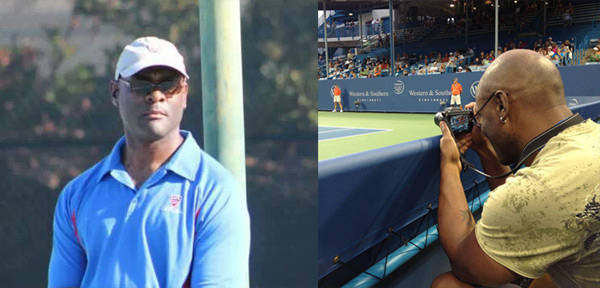 For those who may have missed mentions in previous posts, I'm a certified USTA tennis official. In addition to writing duties for my website, I work ITA, pro Lines, some Chairs, and a ton of USTA "Roving". I am a tennis official AND tennis media: a rare and odd marriage of tennis passions.
Though I haven't discussed this duality much, it's potentially tricky territory to navigate. (Check out my 'Being Mohamed: My USTA Umpire Training and The Official's Code of Conduct') According to the Code, officials should have no dealings with the media. But since I came into officiating through the media backdoor, that provision has been set aside out of necessity.
I've had several discussions with USTA higher-ups about this duality. For the most part, I feel that I've successfully allayed many of their concerns by demonstrating clear and obvious discretion with my tennis reporting/writing. To be honest though, it's been easy to do since I mostly rove Adult, Junior, and ITA events. More to the point, there's been absolutely no conflict between my officiating work and my media work/writing with respect to the pro tour.
However, all of that has changed now that I'm working as a Line Umpire. I'm on-court with players that I might later interview or write about in a future capacity as media. The potential for conflict is clear. Accordingly, my actions per the Code are also clear. I won't write pieces about tournaments I work as a Line Umpire, and will avoid writing about players with whom I've been on court.
This explains my "radio silence" during the Carson tournament, and why you will experience the same  radio silence during the Bank of the West, the Connecticut Open, and any other event that I might work. I love being a part of the battle, and don't want to do anything that will jeopardize that involvement.
On the plus side, I'll be writing more pieces on #TennisFitness, more racquet reviews (with hopefully a few more positive ones!), and more general tennis pieces that avoid any semblance of prior on-court knowledge.
But don't worry. I'll still write my usual Slam previews, and will continue to make errant round picks…unless I'm there on court.

(Note: Under the heading of "Stating the Obvious", if ESPN, Sports Illustrated, or Tennis Channel came calling to hire me, there wouldn't be much hesitation on my part.)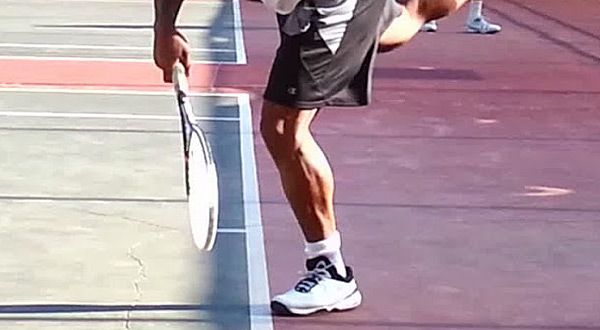 I play social doubles with a group of guys pretty much every Monday, Wednesday, and Friday in SF's Mission District. And though I love playing with these guys, our sets sometimes provide perfect fodder for discussions of "Tennis Etiquette"! Today was one of those days.
While serving at 5-4 for the set, the receiver said, "Hey Kevin, you should watch your feet on the line." Bugged by his intrusion, I responded, "Hey…everybody out here's been on the line."
The fact of getting called out for a foot fault doesn't bother me. In fact, it's something I'm well aware that I need to watch for whenever I step up to the line (because of my bad knees and wonky toss). What bothered me was that the guy who said that had stepped on the baseline at the start of every serve he hit in the set. I also felt like this was only an issue because he couldn't get a racquet on my serve. I'm all for playing by the rules with respect to foot faults, but not selectively.
I stepped backed, then proceeded to hit my hardest serves "just because", ending the set with an ace that sailed under my opponent's racquet. Not quite vindication, but definitely a step to take the bad taste out of my mouth from his comment.
Was I wrong for being peeved at (selectively) being put on foot fault notice? Should foot faults even be called in a social doubles match that's supposed to be fun? Let me know what you think by answering this two-question survey. Thanks.
Question 1
Page 1 out of 2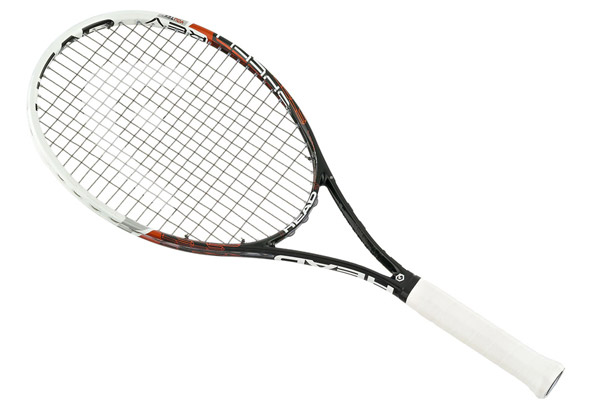 Recently, I had a chance to hit with some of my co-workers. Since I hadn't packed a racquet for the trip, I had to borrow one. That racquet was his spare HEAD Speed Rev.
Though I went into the hit knowing fully that this racquet was lighter and stiffer than my current Speed MP 315, with an open string pattern, I figured that it probably wouldn't be too dissimilar from my own for a decent hit. I was wrong.
To be fair, this was a shotgun wedding of sorts. I needed a racquet, and this was the only one available, open string pattern and all. (Note: open string patterns and I don't get along.) Still, it was a frustrating two days of tennis, with singles on the first day and doubles on the second.
Read why in my thoughts on the HEAD Graphene Speed Rev.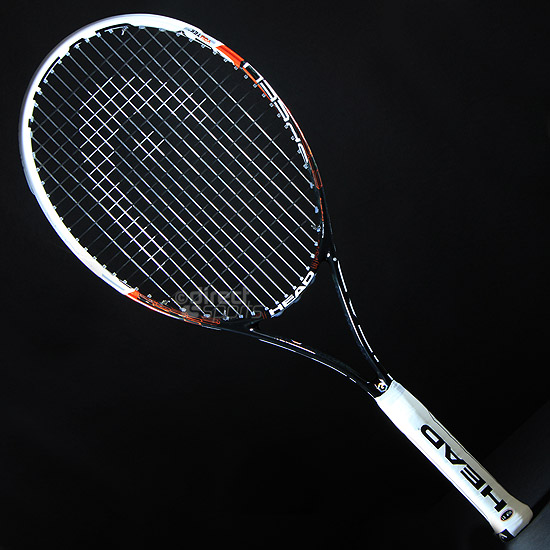 Groundstrokes
This racquet is light and stiff. When you combine those attributes with an open string pattern (16 x 19), you get a solid choice for a player with a slow to medium swing, and one that allows for someone with a flatter stroke production to create more spin.
I am NOT that player. The Rev's light weight made it feel like a toy in my hands. Slowing my swing with such a light stick was nearly impossible. Additionally, the stiffness of the frame never allowed the ball to stay on the strings long enough for good ball control. And as I've mentioned in previous reviews of "open string pattern" racquets, I struggled to find any semblance of control with my normal topspin-heavy stroke production.
After an hour of (singles) hitting, I managed a trace amount of control, but no more. That went away, however, when I played doubles and swung as I typically would during competitive play. It's no exaggeration to say that I never knew if my shots would land in, or hit the back fence. Even when shots did stay in, they had no depth as they landed near the service line.
Volleys
Volleys were "hit or miss"… mostly "miss". Without sufficient punch volleys died into the net. Even with decent volley technique, I struggled for placement and deliberate depth of shot.
Serve
My serve is probably the strongest part of my game. With that knowledge, I will admit that I double-faulted (long) whole games away in doubles. There were occasional aces and mishits that landed in. But for the most part, it was simply embarrassing to witness such basic lack of control from my best weapon.
Overall Impressions
The fellow official I borrowed this racquet from is a teaching pro who hits a ton of balls every day over several hours. By his own admission, this racquet makes it easier for him because of its' light weight. And because it's made his job easier, he's readily adapted his game to the racquet's capabilities.
I'm not quite that adaptable. But even if I were, this racquet wouldn't make my game better. In fact, it might make it a whole heckuva lot worse! The loss of serve, shot depth, and general lack of ball control would remove this racquet from any serious consideration for purchase.
So there you have it. My friend the teaching pro likes it very much, but I would never consider it for my game, or recommend it to anyone who craves better ball control. So what's my advice on this frame? If you're looking for a light racquet to give you easy pop, spin, and maneuverability, give it a shot. It's a solid racquet from a solid company. For all others, I'd suggest looking at the Speed Pro or MP.
HEAD Graphene Speed Rev Specs
Head Size: 100 sq. in. / 645.16 sq. cm.
Length: 27in / 68.58cm
Strung Weight: 9.2oz / 260.82g
Swingweight: 300
Stiffness: 63
Power Level: Medium
Stroke Style: Medium
Swing Speed: Medium
String Pattern: 16 Mains / 19 Crosses
String Tension: 48-57 pounds