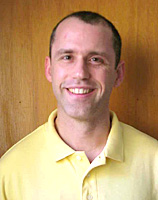 Westgate Therapeutics
342 A Ninth Street, #215
San Francisco CA 94110
(415) 225-4551
michael@westgatetherapeutics.com
Do you suffer from nagging pains or injuries? Is stress causing you to lose sleep or have low energy? Are you looking for quick and long-lasting results? Then a combination of therapeutic Energy and Bodywork is your answer.
Michael Westgate, CMT, practices both Energy Medicine as well as traditional Bodywork techniques. He is a gifted and professionally trained technician whose training includes Celtic, Chinese and Holographic Memory Release energy work as well as Swedish, Deep Tissue and Trigger Point massage. For over five years Michael has offered massage in the Bay Area, working with patients who suffer from debilitating chronic pain as well as serious athletes and clients needing relief from the stress of life. He is certified, licensed and insured.
Michaelís mission as a massage therapist is get to the source of the bodyís imbalance and correct it so that the body and mind can regain as well as maintain their normal functioning. Michael works in a very direct and concentrated manner to gain maximum results from each session in order to give his clients the relief they deserve as quickly as possible. Click here to check out my convenient locations.
Michael states, "I listen to my clients, trusting that they are the ones that know best what they need. My goal is to increase wellness, vitality, ease of movement, the functioning of the body, and peace of mind. If you have a question about my practice, please do not hesitate to call. I will be happy to speak with you and help you decide what type of work is most appropriate for you."