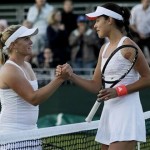 One particularly sad result from today's first round matches at Wimbledon is Melanie Oudin's bagel and breadstick (6-0 6-1) loss to Ana Ivanovic. Ya gotta wonder how much more of this can she take before it finally breaks her completely…. There was so much potential early on. Decent game, decent wheels, great heart. And now when she gets on the court, we all collectively expect to watch yet another train wreck match. I tweeted to Matt Cronin "Watching Oudin at this point is as painful as it was when watching Ana as she was free-falling. Can Oudin regroup?". And that does seem to be the question. He tweeted that he talked to her after the match and she immediately started crying. It's sad. This game is their livelihoods, yes, but it's also just a game. And for some reason right now the pressure of playing this game is crushing her. Matt seems to feel that apart from the obvious mental aspect to her on-court letdowns, there are many tactical issues that could be addressed which might help stop the bleeding. Check out his thoughts on Oudin, Serena, and Blake here. And follow him on Twitter if you can. Great insight.
She muses about either taking a break and going on vacation to clear her head, or maybe play a challenger event. I think she needs to step away for a bit. If she keeps playing with no time for reflection and change she will keep repeating the same pattern over and over. And no one wants to see that from her.
See you after the break Mel!