Archive for the 'SAP Open' Category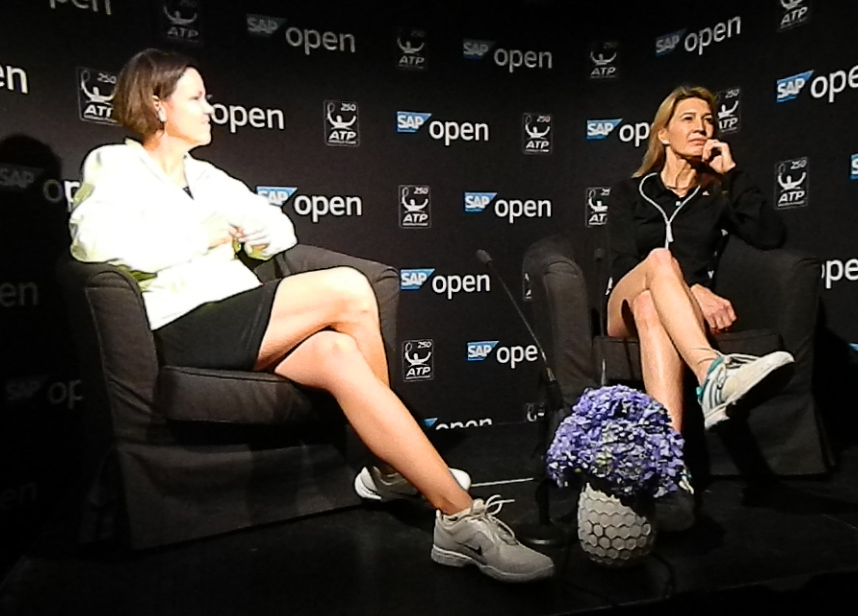 Now that I've finally recovered from both my Hawaiian vacation and a weekend of provisional umpiring (that finished my volunteer requirement… YAY), I'm closing the book on this year's SAP Open with an audio clip of Steffi Graf and Lindsay Davenport.
The clip was recorded during their post-match press conference after (an entertaining) mixed doubles exhibition match with Andy Roddick and Justin Gimelstob. Please accept my apologies in advance for the quality of the recording, and the incessant clicking of cameras any time that Steffi opened her mouth to speak. I was blocked from the front row by unruly photographers. You'll have to turn up the sound at times to hear them.
The voice next to me is Bill Simons of Inside Tennis. He's a great guy and a very knowledgeable tennis source. We made a pretty good team. If you have any questions on their responses, let me know and I'll see what I can do to fill in the blanks.
Enjoy.

(click the arrow to play the audio)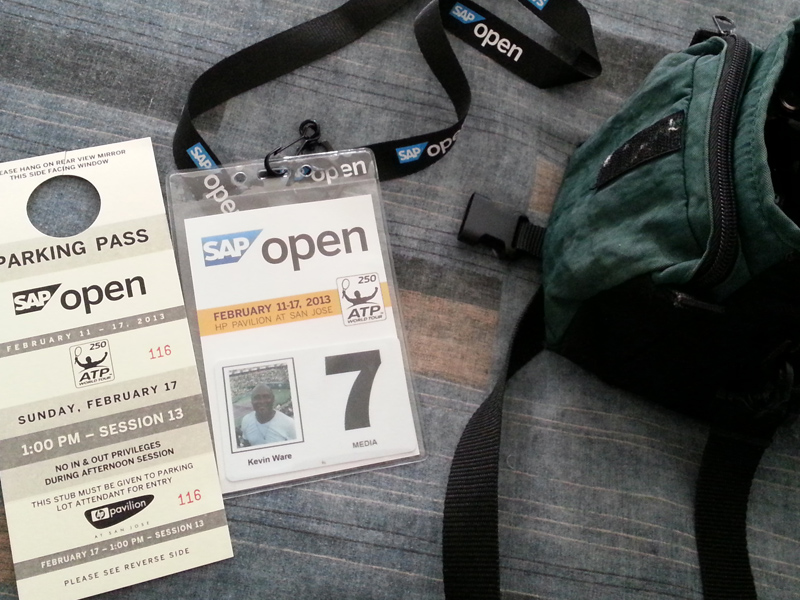 Ordinarily, I do my "Ten Final Thoughts" immediately after a tournament is done.  But with a week of driving back and forth to San Jose from San Francisco (then staying up to write) under my belt, I figured it was okay to give my brain at least one day of rest before cranking out something new.
Break time over!
Sunday's final at the SAP Open was, sadly, the end of a 125 year-old era. This was my second year covering the event with a media credential, and unfortunately my last.  The drive/commute may have been tough, but there were some great things about covering this year's tournament that definitely warrant a mention.  This "Ten Final Thoughts" will go outside of the lines a bit more than usual as I write about my final thoughts on this last edition of the SAP Open.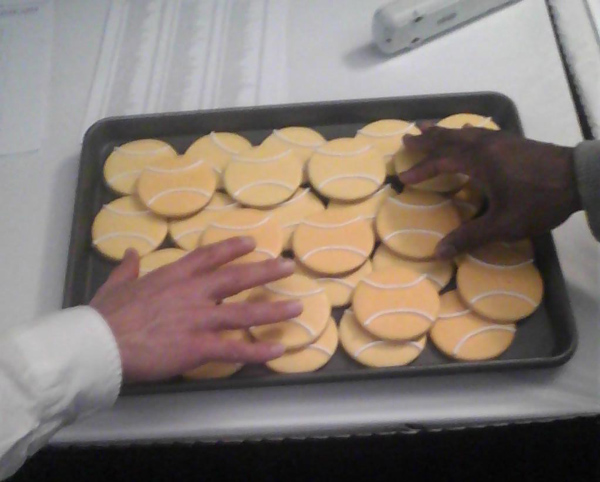 The media staff at the HP Pavilion did an excellent job (again), and I was really sorry that I couldn't say to them, "Thanks guys.  See you next year!" because, of course, there will be no next year.  So for all you do, take a bow Jim Sparaco, Jonathan Okanes, and Chelsea Wilson.  Each year, you guys have done a great job of making us all feel welcome.  IF there were going to be a next time, the only thing I'd suggest is that you have more tennis ball cookies on hand for the final day.
It's sad to see this great tournament leaving San Jose. The equally sad reality, however, is that for the past few years the amount of empty seats in the arena seems to have increased, even on finals day. That makes for slim chances of economic viability in the new world order of "global tennis". I can't vouch for the specific attendance numbers, but it appeared as if the largest crowds on hand the past two years were on nights with exhibition matches featuring McEnroe/Monfils (2012), and Graf/Davenport/Roddick (2013). It's difficult to justify big financial payouts in prize money or appearance fees when you can't fill the seats for a return on your investment.
The weather was beautiful in San Jose during the tournament run.  So it was not lost on this tennis-loving writer just how ironic it was that I was driving to a city with beautiful, sunny weather in order to sit indoors and watch others play under the glare of greenish indoor lights.

On a more positive note, what better way to go out than with someone winning three straight titles in such dominating fashion. The SAP Open put Milos Raonic's career "on the map" by giving him a wildcard for the first year he won the title.  He repaid the favor by giving them a noteworthy sendoff.
After watching the Americans at this year's event, I agree that there's no easy answer to the question of finding that next "great" American player. John Isner is a fine player, but with a lot of work to do in order to realistically contend with the other Top 10 guys.  The same holds true for Sam Querrey. As for Ryan Harrison, I just don't know if it's in him to reach that level.  The mind and spirit are willing, but his talent might not be enough to matter. And when you look past those three, it's easy to see that we're in a world of hurt for the next crop of elite male contenders. Is it impossible? Probably not, but…

The mixed doubles exhibition with Graf-Roddick playing Davenport-Gimelstob was great fun for spectators and media alike. That's a good thing considering that they changed the schedule for TV and moved both singles to the afternoon, replacing the second singles semifinal that was supposed to follow with a doubles semifinal. As far as the exo is concerned, Andy and Justin should consider selling tickets and taking their show on the road.  Their schtick, incorporating Andy's hair challenges and Justin's small calves, was pure gold. My only beef was that their "strong" personalities overshadowed the women.  Steffi was pleasant and looked great, and Lindsay was solid as well even if a little under the weather.  Neither could get in a word, however, when they actually had something to say.  Thank God I got a chance to hear them speak in the press conference afterward!

Not that I'm "all that and a bag of chips", or so seasoned in the press room that I can dictate to anyone, but I've fast discovered the major pet peeve of all writers in press conferences: photographers who block access to the front where it's easiest to ask questions, take a million pictures up close that they have lenses for, then sit there picking their noses after they get the pictures that they wanted to get. Just sayin'.
Taking pictures while writing about a tournament is challenging.  Taking pictures while writing AND tweeting can push you over the edge!  Thankfully, I had a great photographer by my side for the important matches.  Thanks David Sweet for your hard work and willingness to learn and deal with the challenges involved in shooting in a dark and greenish environment.

I spent part of the week closely watching the chair umpires and linespersons for tips and techniques to help me as I get closer to becoming a certified USTA official.  Now that I know a bit more about the process, it was cool to view their actions through that prism. This was especially true as I watched Steve Ulrich putting singles sticks into the net before a match before measuring it. I'd like to say that maybe I could be an official at next year's tournament, but then I remember, "oh yeah…no mas!"
My final takeaway from this final SAP Open is how much I'll miss the intimacy of this particular tournament environment.  From the seating in the arena to the cramped press room, the confines made it easy to get a feel for the mood of the matches and the players. Those are the things that you can't experience from watching on TV or online. It makes all the difference in the world between watching a good match and experiencing great tennis.
Goodbye SAP Open.
[1] Milos Raonic (CAN) d [4] Tommy Haas (GER) 6-4, 6-3
Milos Raonic completed a week of dominating tennis by defeating Tommy Haas in straight sets to become only the third man to three-peat in the SAP Open's 125 year history, and the first in the Open Era. Though some great players have won this tournament 3 times or more, the three-peat hasn't been accomplished since Tony Trabert (1953-55).  With this win at the final SAP Open, Raonic has indeed joined the ranks of an elite few.
The term "dominating" is actually an understatement for Raonic's play when you look at his accomplishments at this tournament.  He won without dropping serve the entire week, and only faced one break point in 39 service holds. Additionally, Raonic has never dropped a set during his three year run at the SAP Open, winning 24 sets in a row. These are remarkable numbers from a player who's won three of his four career titles in San Jose, and who jokingly said that he should "roll up the court, put it in his bag, and hope that it doesn't get lost" on his next flight.
THE X'S AND O'S
Serve
Raonic's first service game set the tone for the match with four aces, ranging in speed from 123mph to 148mph. By the end he would have a total of 19. Many expect Raonic to ace his opponents with pace, but many of his aces in this match came on serves between 115-120mph with great placement.  By contrast, Haas had 1 ace in the third game of the second set; his only ace of the match. It's tough to overcome that many free points in a match that might be decided by only 5. (Raonic had a total of 58 aces for the week.)
Return Game
Raonic has talked a lot this past week about the work he's put in on his return game, and the results were evident in today's final.  Whenever Haas served out wide to the Raonic backhand on the ad court, he ran the risk of getting burned by Raonic's backhand down the line.  It was a risk that hurt him greatly.  But there weren't many other options open if he wanted to avoid the Raonic forehand, which could hurt him worse: either as a crosscourt return from the deuce court or an inside out shot from the ad court.
Break Chances
Raonic put Haas under pressure with an early break in the third game, and finished the match with a total of 7 break point chances while facing none on his own serve.  To put this into the larger context of the tournament, Raonic faced (and saved) one break point the whole tournament.  It happened in his match with Denis Istomin. His opponents (Michael Russell, Denis Istomin, Sam Querrey, and Tommy Haas) faced a total of 27. It's impossible to take a set off of someone if you can't break their serve.
Ground Game
Unlike his match against John Isner, Haas had to face an opponent with a strong ground game on both sides who also wasn't afraid to come in and attack the net. In his post-match press conference, he referred to Raonic's strategy as "taking risks" and being rewarded.
I understand Tommy's need to chalk this up to a player rolling the dice and getting hot.  But that would be unfair to Raonic, because it's not possible to explain the Raonic game in such low-percentage terms, especially given the consistent execution. Raonic didn't have one spectacular day of shot-making.  He's had three years of spectacular shot-making, so it doesn't seem like there was much risk-taking involved.
It should also be noted that Haas didn't play badly.  In fact, his play in the final was very much on a par with his play against Isner in the semifinals. He served decently, hit his backhand well and tried to finish points at the net when possible.  But as the match wore on and the pressure wore him down, Haas' execution suffered. Either he cut his margins too fine when going for the lines, or was forced to block shots back in the hope that they would stay in and prolong rallies. More often than not he was left watching shots whiz by with a plaintive look on his face.
Sadly, his reactive tennis seemed more of a risky strategy than the Raonic's game.
FINAL THOUGHTS
Milos Raonic
Did you feel any pressure today?
"Yes, at the beginning.  But I made a conscious effort…to hit harder to get the energy out."
Even with your dominant level of play in the final, is there one thing you could have done better?
"When I'm playing well and my opponent is playing well, mixing it up a bit more."
Tommy Haas
Did Raonic's play how you expected him to play today?
"Yeah, he didn't give me too many looks on his serve. He served extremely well and has a lot of confidence in that serve. He played risky when he had to and he got rewarded for it. That's his game and what's so tough. It puts pressure on me trying to hold serve, and he was feeling it."
Doubles Championships
[4] Xavier Malisse (BEL) / Frank Moser (GER) d [WC] Lleyton Hewitt (AUS) / Marinko Matosevic (AUS) 6-0, 6-7(5), 10-4
After falling to an embarassing 6-0, 4-0 deficit, the Aussies made a match of it; winning the second set but ultimately losing the match tiebreaker.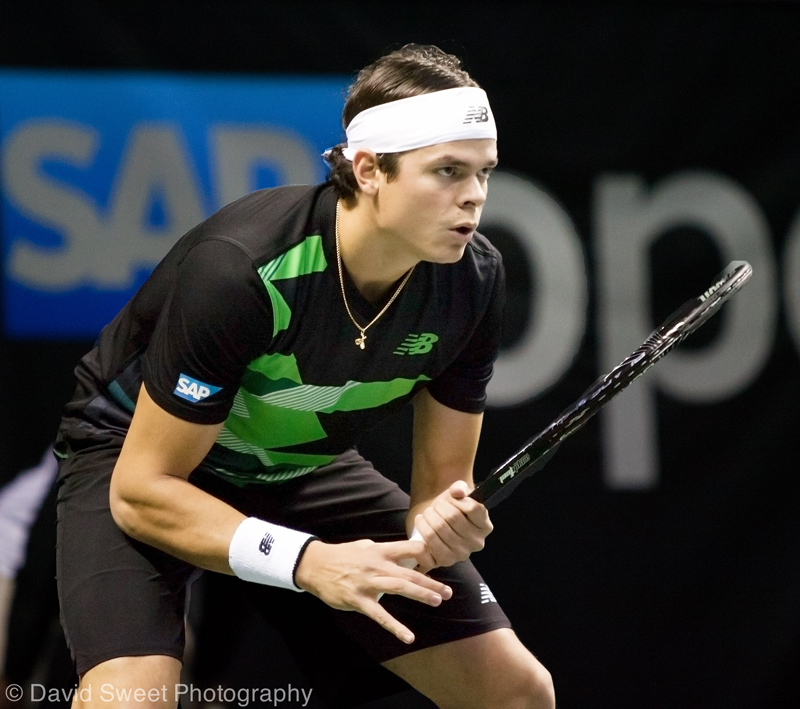 (Originally posted on Tennis Panorama, 2/17/2013)
Day Six Semifinal Results
[4] Tommy Haas (GER) d [2] John Isner (USA) 6-3, 6-4
[1] Milos Raonic (CAN) d [3] Sam Querrey (USA) 6-4, 6-2
Match Notes
Semifinal #1
After watching Tommy Haas and John Isner the past few rounds, I had an uneasy feeling about Isner's chances against the resurgent German in the first semifinal.  Isner needed to start aggressively, serve well, and keep the points short. Haas needed to challenge the Isner second serve, take his chances, and work the big man over with baseline play.  The Haas strategy proved to be the winning one, as he took out the No. 2 seed in straight sets.
When asked about his success in seeing the Isner serve, Haas said, "I mean, that's the key against somebody like John, obviously. I think early on in the beginning he didn't hit his first serves in so I tried to jump on the second, tried to make something happen, get it back in play, and then take my chances in the rally." That's exactly what he did; getting balls back into play and making the big man hit the proverbial "one more shot".
"You have to play aggressive and play the type of tennis that you want to play.  It can be tricky, but I did see his serve really well today and that obviously helps."
For his part, Isner missed on all aspects of his "key to the win". He started slow, missed some first serves, and found himself caught in baseline rallies he had little chance of winning. Lack of rhythm on his serve was at the top of the list in Isner's honest assessment about his difficulties in this match.
"Yeah, that's really what decided the match. I feel like normally I serve better than I did.  And against a guy who is and was playing really well in that match, I need to serve better."
The serve was just one aspect of Isner's loss. When Haas drew Isner into baseline rallies, his speed and movement gave him a huge advantage over the taller Isner.  When asked how he felt his ground game held up against Haas, Isner admitted, "It let me down a little bit. This court it stays low and it skids. I would prefer the ball to get up a little bit higher for me.  But still I got a ways to go with just my game and going for my shots, and trusting my shots a little bit more.  I just didn't have it today."
With this win, Haas reaches his 25th ATP World Tour final and has a chance to become the first German winner of the SAP Open.
Semifinal #2
Milos Raonic completely dismantled Sam Querrey, breaking the American's serve in the very first game of the match.  From there, he never looked back as he gave Querrey a comprehensive lesson in "big boy tennis".
Raonic dominated Querrey with big serving, big forehands, big backhands and, most importantly, solid returning that kept Querrey under continual pressure in his service games.  Every aspect of Raonic's game was working in the match, and it became clear after a few games that Sam had little chance of stopping the Raonic juggernaut.
It can't be overstated just how dramatically Raonic's off-season work on his return game impacts a match like this.  The stats tell much of the story for these two big servers.
Aces: 12 for Raonic, 7 for Querrey
Double Faults: 0 for Raonic, 4 for Querrey
Break Points Saved: 0/0 for Raonic, 6/9 for Querrey
By breaking Querrey early, Raonic put him on notice.  Instead of the 20 aces that he hit in both of his earlier matches, he only got 7 against Raonic.  That's a ton of free points on which he usually relies that were no longer available.  On top of that, pressing on his serve led to more double faults.  Raonic had, for all practical purposes, taken the Querrey serve out of the equation.
When your weapon is no longer a weapon, and you can't break your opponent's serve while defending yours in each service game, the odds of success drop dramatically.
Raonic's continually improving game is the result of hard work in the off-season, and the confidence it's given him on court is palpable.  "(I'm) returning well, moving well, getting into position to hit the shot and when I have the opportunity I'm going forward and I'm pretty successful. And I'm serving well.  So sort of everything's on the right track, in that sense.  Then confidence comes with that. The work's paying off."
Sam acknowledged what was painfully obvious to all in attendance.  "He served unbelievable, and I was never even really close to getting a look on his serve. On my serve I wasn't getting a ton of pop and he was doing a good job of putting the pressure on me.  He returned hard and deep and I felt like I was under pressure the whole time." "He hit the ball big all around. He was really sharp today."
To the contrary, Raonic has been sharp for the past three years. Two of his three career titles have come at the SAP Open, and he's never dropped a set in San Jose.  If he wins this final SAP Open title, he will be the first man to three-peat in the Open Era, and the first since Tony Trabert in the fifties.  Judging by his play so far, this outcome appears likely.
Final Notes/Pick
[1] Milos Raonic (CAN) vs [4] Tommy Haas (GER)
Head-to-head: Raonic and Haas have never played.
Keys to the match: Raonic just needs to keep doing what he's been doing in order to lift the trophy. But in order for Haas to have a chance in this final, he needs to do everything that he did in his semifinal match against Isner, and do it all BETTER!  That's a formidable task for most players, let alone a guy who's spotting Raonic twelve years before they even step onto court.
Raonic can pressure Haas in ways that Isner couldn't.  He serves as big if not bigger than Isner. In addition to the big forehand, he also possesses a stronger backhand. He scrambles well to short balls and isn't afraid to take the net. To make matters worse, he really likes the court surface and feels that it suits his game nicely.  To say that this is an uphill battle would be the understatement of the day.
The good thing about tennis, however, is that titles aren't handed out to the winners because it looks good on paper.  Even though Raonic is the overwhelming favorite, he still needs to win the match.  And lest we forget, Isner was the overwhelming favorite over Haas in the semifinals.  His odds aren't good, but there's always a chance for the upset.
Pick: Raonic for the win in straight sets.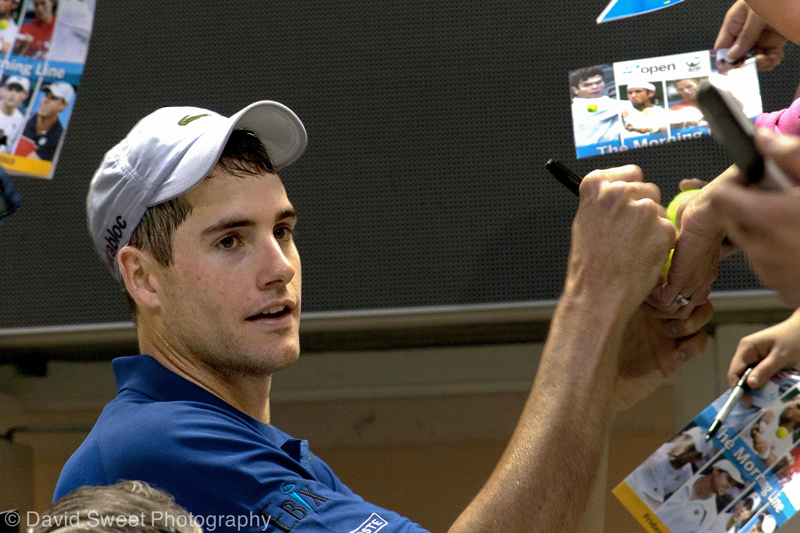 (Originally posted on Tennis Panorama, 2/16/2013)
Day Five Quarterfinal Results
[4] T Haas (GER) d [WC] Steve Johnson (USA) 6-4, 6-2
[2] J Isner (USA) d [8] Xavier Malisse (BEL) 7-6(8), 6-2
[1] Milos Raonic (CAN) d [6] Denis Istomin (UZB) 7-6(0), 6-3
[3] Sam Querrey (USA) d Alejandro Falla (COL) 6-3, 4-6, 7-5
Match Notes
Steve Johnson bemoaned his lack of aggression in losing to Tommy Haas in the first quarterfinal of the day, feeling that he let Haas take control too often at key moments.  For his part, Haas is feeling good and grateful to be playing some of his best tennis towards the end of his career.  He's especially happy to be able to do so in front of his 2 year-old who's here in San Jose with dad.  "I know she probably won't remember watching me play today, but maybe I can continue on playing and she'll get to be around a couple of these tournaments and see me play competitively at a high level."
John Isner didn't play his best tennis in his quarterfinal match against Xavier Malisse, but he raised his level when needed to get by an opponent who was more than capable of a big upset. This was especially true in the first set tiebreaker after Isner dug a 0-3 hole with a mini-break on the first point.  The tide turned with a monstrous return on a Malisse serve to level at 5-all. He closed out the tiebreak with some mad scrambling on the baseline before flicking one final running forehand winner that was netted by the Belgian. First set to Isner.  Malisse's level dropped off quickly in the second set.  Isner, with the first set in his back pocket, kept up the pressure on the slumping Malisse to close out an uneventful second set for the win.
The quarterfinal match between Milos Raonic and Denis Istomin turned out to be almost a carbon copy of their match in last year's SAP Open final. Both guys held serve easily and played to their strengths for most of the first set, with Istomin looking to be the stronger from the back court.  But once again, the tiebreaker was the deciding factor with Raonic sweeping all seven points for the first set.  After that, Istomin's resolve slipped and Raonic's confidence soared, and it was only a matter of time until Raonic closed it out.
Sam Querrey's win over Alejandro Falla was easily the best match of the day! It looked to be on track for a routine straight sets win by Querrey after a 6-3 first set.  No one told that to Falla, however, as the Colombian left scrambled with even more intensity in the second set.  In tennis, anything can happen when you make your opponent hit "one more shot", and that was the case for Falla. Querrey's level dropped, and a few key misses gave the set to Falla.  The tension was high for both guys in the third set, with neither giving an inch until the eighth game when Falla broke Querrey for 4-all, then held serve for a 5-4 lead.
A straight-sets victory was a distant memory with Querry playing loose shots on the deuce court to find himself at match point, 30-40. A crucial 133mph ace out wide to Falla's backhand saved the point, and lit the fire under Sam that he needed to hold serve, break Falla for a 6-5 lead, then serve out the match.   That's not to say that Falla didn't have his chances, because he did.  Two netted shots for a game point at 5-all could easily have put the pressure back on Querrey's serve to stay in the match. But it was not meant to be for Falla, and a chance for a huge upset.
Semifinal Notes/Picks
[4] T Haas (GER) vs [2] J Isner (USA)
Head-to-head: Isner leads 3-1
Quick Keys to the match: Isner needs to start aggressive and keep Haas from feeling like he has a chance.  He must serve well to blunt Haas' return opportunities, and keep the points short by coming forward as he's done in other matches.  For Haas, if he can get a handle on the Isner serve and make this a running match, he will have the edge for Isner.
Pick: Sticking with Isner for the win.
[1] M Raonic (CAN) vs [3] S Querrey (USA)
Head-to-head: Querrey leads 2-0
Quick Keys to the match: Raonic is going to come out firing on all cylinders with high intensity.  Conversely, drops in his intensity level have been Querrey's main issue in both of his previous matches. For Querrey to win this match against the two-time defending champion, there can be no drops.  He has to maintain focus, serve well, and stay strong on the baseline.  If Raonic can maintain focus and intensity from first point to last, something that Querrey typically can't do, he'll have the edge.
Pick: Sticking with Raonic for the win.